March 16, 2020 was a Monday. We were coming off an eerie weekend in Chicago, where typically the city would have celebrated Saint Patrick's Day with lots of hustle and bustle downtown. But this year, the river dyeing and parade were cancelled, and there was a general feeling of uncertainty and unease in the air. I reported to FFC West Loop that Monday morning, where I work as the Cafe and Bar Manager. By the end of that day, the club had shut its doors for the foreseeable future due to the COVID-19 pandemic. 
When we found out that the state of Illinois was ordering fitness facilities to close, we had no idea what the future would hold. How long would the clubs be closed? When would we be able to return to work? What kind of impact would the pandemic have on our day-to-day operations when we did return? As a manager and department head, my main concern was communicating with and supporting my staff, who all work in the hospitality industry, some of whom were working part-time while earning their degrees. 
I wanted to find a way to keep our team connected during the shutdown, and with the help of FFC trainer and boxing coach Chris Berlanga, we put together weekly Zoom workouts. Three days a week, Chris coached us through challenging bodyweight classes. Having the opportunity to get our bodies moving consistently not only helped us stay in touch as a team, but helped to provide some structure and normalcy in our days. 

"[The classes] helped with all the uncertainty," said team member Gretchen. "I was in school and had to switch completely to online in the matter of a week, and then the gym closed. At first it was very lonely, but then Charise reached out to us to workout with her and Chris."
In addition to providing social interaction and team bonding during an isolated time, the classes also helped our staff commit to a regular fitness routine outside of the gym. 
"I wasn't consistently working out," said team member Ashley. "I would go for walks but that was about it. I'm very grateful to Chris and Charise for helping me get through the shut down, even if it was just a half hour three times a week. It made me feel so much better."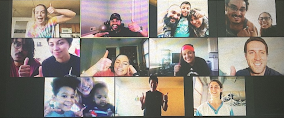 Personally, the stay-at-home order took a toll on my mental and physical health. I know I'm not alone in saying that my stress and anxiety quickly became elevated with all of the uncertainty and changes in my daily routine. These workouts with Chris and my team saved me during the shut down. Seeing so many familiar faces on the screen helped me forget about the chaos of the outside world for 30 minutes to an hour a day. 
If there is one thing I've learned from this pandemic, it's that life is short and nothing is guaranteed. We must take care of ourselves, lean on one another and do our best to stay connected and active during these difficult times.

Post written by FFC Contributor Charise Horn.