Fun fact: ginger is one of the 6 spices that will help improve your health. It can help fight inflammation, which means you'll feel less sore after an intense workout. In this Vietnamese ginger orange cashew healthy stir fry recipe, the spicy kick of ginger mixes with sweet orange and the flavor of rich toasted cashews for an easy, fresh sauce. Because the recipe uses brown rice noodles, tofu and a colorful array of veggies, the recipe is gluten-free and vegan. Prep the healthy stir fry ingredients ahead of time so you can quickly make this meal after your next killer workout!
Level: medium
Servings: 3
Ready in 30 minutes
Healthy Stir Fry Ingredients
For the stir fry:
10 oz firm tofu block
3 servings (6 ounces) brown rice pad Thai noodles (fettuccini noodles)
2 bell peppers, any color, seeded and sliced
1 bunch scallions, whites separated from greens and sliced
For the cashew orange sauce:
3/4 cup roasted cashew pieces
2 navel oranges, peeled
3 inches fresh ginger, peeled and chopped
2 teaspoons tamari
1 teaspoon red chili flake
2 limes, quartered, for serving
Related: travel more of the world with your mouth! Check out Chef Katie's Mexican Shepherd's Pie recipe (with smoky sweet potato crust) here!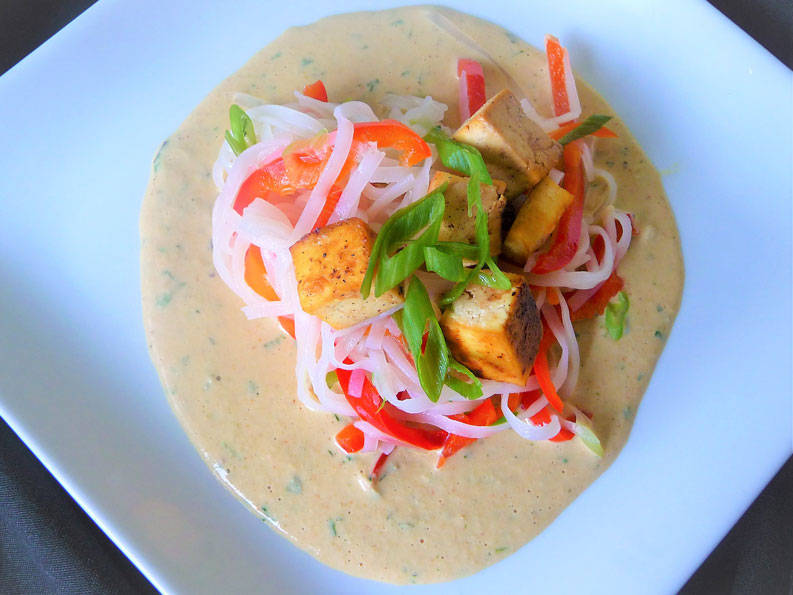 Directions
Preheat your oven to 375. Line a baking sheet with parchment paper on a nonstick silicon baking mat.
Bring a large pot of water to a rolling boil.
To roast the tofu:
Dice the tofu into bite-sized cubes and spread into a single layer on the pre-lined baking sheet. Roast 12-15 minutes, stirring halfway through. Tofu should be golden around the edges. Let cool slightly.
To cook the brown rice noodles and veggies:
Cook noodles in the pot of boiling water, according to package directions. Leave them a little under-done, with a little "bite" in them. Add the sliced bell pepper and white parts of green onion during last minute of cooking. Drain noodles and peppers and immediately rinse under cold water to stop the cooking.
To make the oil-free ginger orange sauce:
Combine the roasted cashews, whole oranges (peeled), ginger, and red chili flake in a blender. Puree until smooth. Add water, if needed, to reach a pourable consistency similar to Caesar dressing. Taste to adjust seasoning.
Putting it all together – make the Vietnamese orange ginger healthy stir fry:
Get your stir fry station set up: tofu, noodles and peppers, sauce. Pour the ginger orange sauce and 1/2 cup water into a wide sauté pan or wok. Bring to a simmer over high heat. Add the noodles, veggies, and tofu. Stir-fry 3-5 minutes, until hot.
Garnish with green onion and serve with lime wedges. Serve immediately.
Chef' Katie's Tips
Tamari vs. soy sauce: Tamari is similar to soy sauce, but it is gluten-free. If gluten isn't a concern for you, you can use them interchangeably in recipes.
Soy-free: if you're avoiding soy, use coconut aminos instead of the tamari. Replace the tofu with frozen green peas, canned black beans, or cooked chickpeas.
Stir fry tip: the key to stir-fry is preparing having all of your components ready to go when you're cooking. First, roast your cashews and tofu. While the tofu roasts in the oven, get the rest of your ingredients ready — slice your veggies, cook the noodles, make the sauce, and quarter your limes. This will make for a quick, easy meal. You can even prep this entire meal on the weekend so that it's a quick stir-fry during a weeknight.
Yield: about 8 cups
Post written and all photography provided by FFC group fitness instructor Katie Simmons.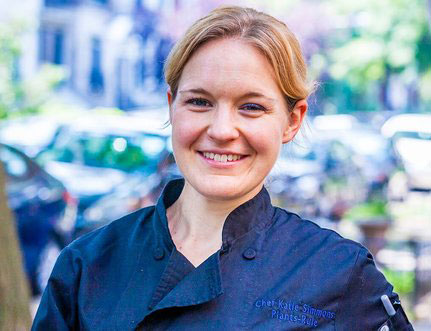 More about Katie: Katie is a group fitness instructor at FFC and is also a personal chef based in Chicago. She specializes in creating delicious, healthy recipes for those with special dietary concerns like gluten-free, oil-free, plant-based, and low-residue. You can see more at www.plants-rule.com. You can also see more recipes at www.facebook.com/plants-rule and follow her on Instagram at @chefkatiesimmons.
Nutrition Facts
Servings 4.0
Amount Per Serving
Calories 396
% Daily Value *
Total Fat 16 g 25 %
Saturated Fat 3 g 14 %
Monounsaturated Fat 0 g
Polyunsaturated Fat 0 g
Trans Fat 0 g
Cholesterol 0 mg 0 %
Sodium 192 mg 8 %
Potassium 366 mg 10 %
Total Carbohydrate 57 g 19 %
Dietary Fiber 8 g 32 %
Sugars 13 g
Protein 14 g 29 %
Vitamin A 45 %
Vitamin C 218 %
Calcium 7 %
Iron 18 %
* The Percent Daily Values are based on a 2,000-calorie diet, so your values may change depending on your calorie needs. The values here may not be 100% accurate because the recipes have not been professionally evaluated nor have they been evaluated by the U.S. FDA.