I love data. Being in marketing, I love being able to make smart decisions based on numbers and know that the route I'm taking my work has a good likelihood of succeeding. I also am a big fan of nerdy stuff when it comes to fitness and wellness – so naturally I use BOTH my Apple watch and Myzone belt when I work out, use MyFitnessPal to track meals (though, with varying levels of consistency), and mostly stay up-to-date on new trends. So when I learned about the V02 Max test and its ability to measure aerobic ability and also calorie burn related to heart rate, etc., I was pretty excited. I created a list of V02 Max test FAQs based on what was going through my brain during my own test – check them out!
What is a V02 Max test?
According to Korr Medical Technologies, which is an industry-leading company that creates equipment for these tests, VO2 Max is the maximum rate of oxygen consumption that can be attained during the most intense exercise possible. Basically it's how efficiently your body uses oxygen during exercise.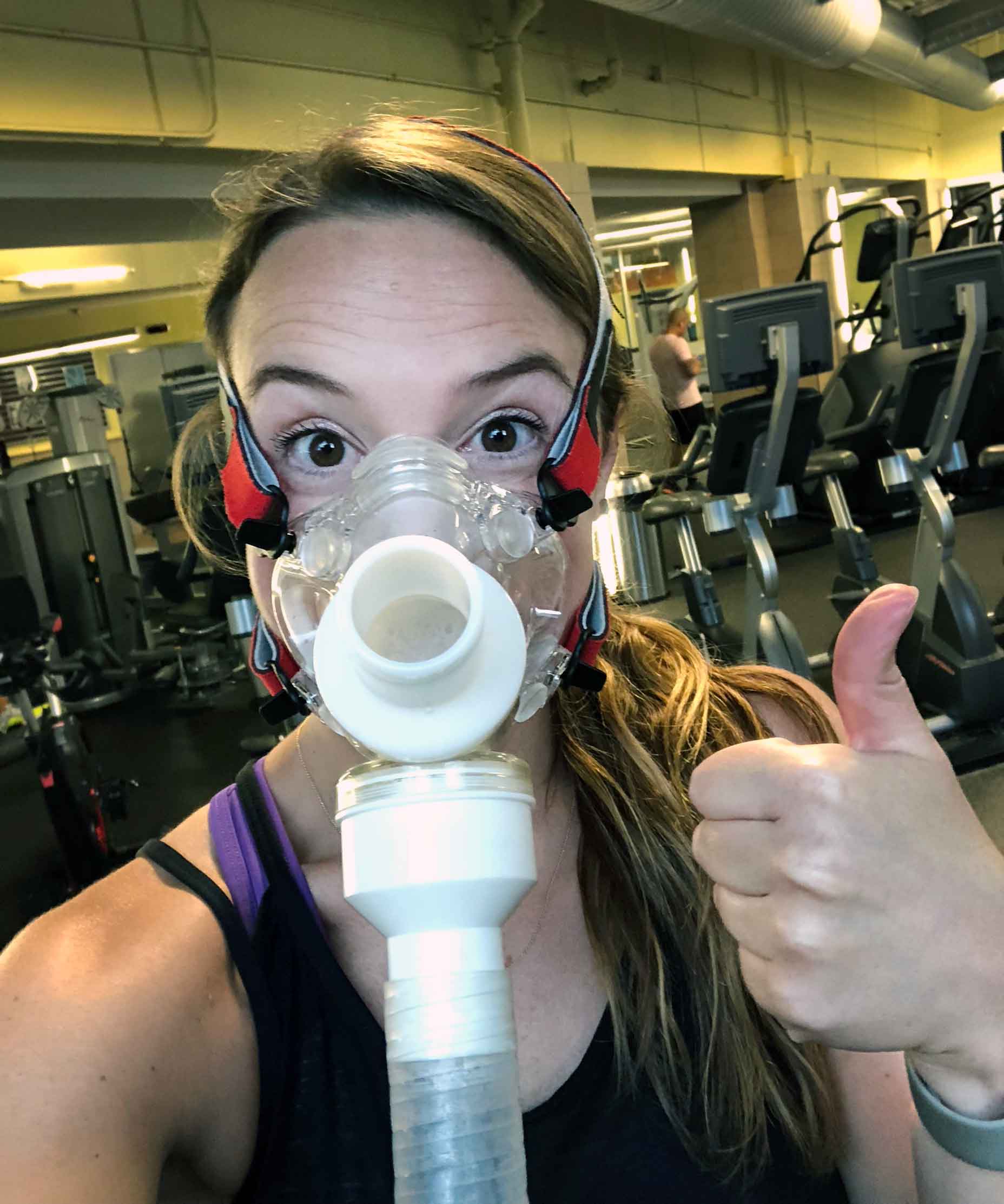 Who is the VO2 Max test for?
While the VO2 Max test is especially ideal for endurance athletes, marathoners or anyone training for a fitness event, the VO2 Max test is also ideal for anyone who wants to improve their fitness on any level.
Why should I get a V02 Max test?
Not seeing results despite all the work you're putting in at the gym? This piece of the puzzle can help – for example, I learned that in order to burn fat while exercising, I have to keep my heart rate in a very specific zone and actually was over-exercising for my goals! Do less? … If you say so, data.
How long does the test take and where can I get a V02 Max test done?
The whole process, from changing into workout clothes, the explanation of the process, short workout, data capture and analysis took about 45 minutes, give or take. Depending on how long you take to get ready, this could easily be done over a lunch hour (however, due to the fasting/ caffeine restrictions listed below, I recommend trying to get it done as early in the morning as possible so you can so you don't turn into a hangry zombie).
You can get them done many places – Fitness Formula Clubs has a number of metabolic carts (which have the special machine) plus a traveling one that makes its way around to the clubs! The test is $149, and there are other kinds of add-ons and tests (like resting metabolic rate, blood lactate, etc.) you can opt into for additional cost.
Are there special dietary restrictions/fasting for the V02 Max test?
Yes – if you're getting the basic V02 Max test done, you'll need to plan to fast for 4 hours before, abstain from caffeine for 6 hours before and rest from any exercise or activity for 24-12 hours before. You can drink room-temperature water up until the test but nothing super cold! And there are different requirements for the other add-ons, so make sure to check with a team member well before your test.
Do I need to shower after the test?
I did, because I got up to a pretty high level of activity… I am essentially a human waterfall. Put frankly, I sweat profusely. So you may want to bring a change of clothes and plan to shower after your test.
What do you wear for the V02 Max test?
Comfortable athletic clothes should do the trick – something you're not afraid to possibly sweat in, and shoes you can easily run on a treadmill or cycle on a stationary bike in.
Tell me about the weird, Bane-like mask.
The mask is where all the VO2 magic happens and is how the machine is able to measure your oxygen intake and usage. These are just a few questions I had about the mask.
Can I do the test without the mask on?
Nope – the mask is how you obtain the data. It's actually super cool – it isolates both the oxygen you take in and your carbon dioxide output and then uses a machine to measure the oxygen content.
Does the mask make you feel claustrophobic?
Being honest here, as someone who doesn't like anything on my face at all, just a little bit. But only when you first put it on – I couldn't even notice it (aside from being able to see it occasionally when I looked down my cheeks) after the initial set up. And the staff (FFC endurance Coach Chris Navin, in my case) does an amazing job of explaining everything to you and walking you through putting it on.
Can you breathe normally?
Yep! I thought it was going to feel restricted from the looks of it, but you can breathe totally normally when you put it on and when you're doing the treadmill or cycling portion.
What does the mask smell like?
Basically like a big 'ole snorkeling mask. It's fun – I started daydreaming about my next beach vacation.
Does it pinch?
Nope! It took a second to adjust the straps for my face but once we had that done, it was fine!
Do they clean it first?
For all my fellow slightly germaphobic homies out there – they definitely clean it first. Coach Chris has special disinfecting wipes and wipes down the mask/straps/etc. before you put it on.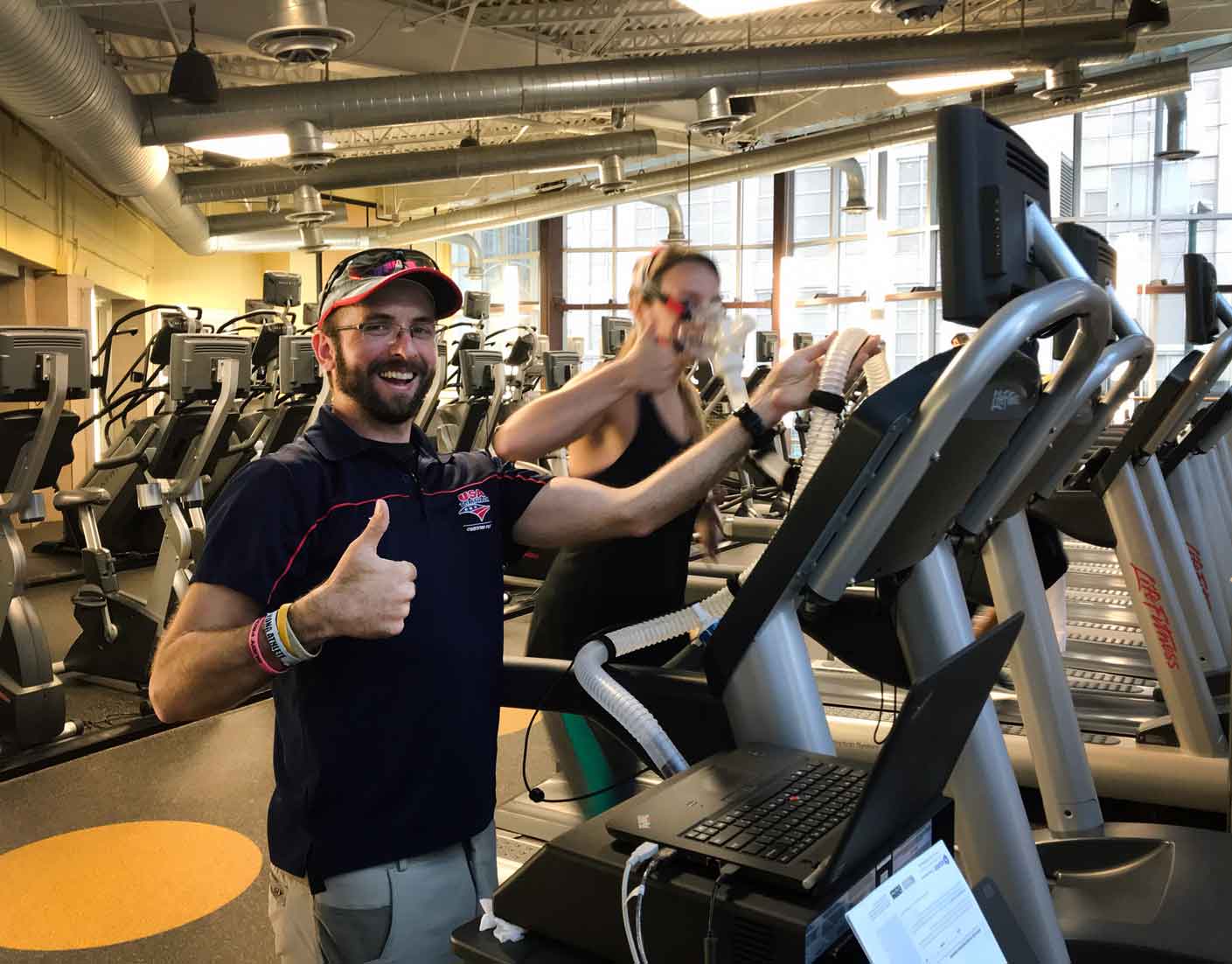 So you have to run on a treadmill or cycle for how long?
In order to get your oxygen consumption measurements, you have to exercise with the mask on for a certain amount of time, at a graduated scale of intensity, while wearing a heart rate monitor, like a Myzone belt.
Do I have to run on a treadmill?
No! It's definitely recommended, but for people with injuries or issues related to running/walking, you can also do the test on a stationary bicycle. If you don't want to run, just let the staff member know – the point is to get you up to your max exercising ability, which may mean different things for different people.
How long do I have to exercise for?
You will be working for about 10-15 minutes, which is about the time it takes to cycle through the warm-up and increasing speeds, up to your max level of ability (by the end of my test, I was running at about 8-9 miles an hour, give or take, for a minute or two.) Like I said, this is different for everyone!
Do I have to wear a heart rate monitor? What if I don't have one?
Yes, in order to get the right data, you'll need to wear a heart rate monitor, like a Myzone belt. Don't have one? Don't worry! The team will have a belt for you and will help you put it on.
What kind of data do I get from the test?
After your test is completed, you'll get a handy dandy readout of your data, plus some cool charts, graphs and summaries of what it all means. I got an outline for a workout plan – basically I have to keep my heart rate under 150 to ensure I burn fat during my workouts. I also got more information about how I could apply this to running races, marathons and other endurance events, if I chose to pursue one in the future.
Overall Takeaways From the VO2 Max Test
It doesn't take a whole lot to impress me…. but holy data! This was a really cool test – and definitely changed what I thought I knew about my workout habits. You'd think running faster would be better for your fitness, right? Not necessarily – especially related to your goals. I found out through this test that I actually have to pull back on my exercise a little bit – and that I can definitely lift weights and do other types of exercise that will keep my heart rate in that specific zone and that I will still see results from it. I haven't done a resting metabolic rate test (RMR – the one that tells you how many calories you burn at rest) yet, but I will! That, coupled with these results of the VO2 Max test, will help me work smarter, not harder. And I'm all about that!
Have more questions about the V02 Max or RMR test, or want to schedule one for yourself? Email metabolictesting@ffc.com!
Post written by FFC marketing manager, Megan Zink.