I didn't grow up in a crunchy-granola, windbreaker-wearing, athletic family. Like many children of the Midwest, I was raised in a rural community full of good, old-fashioned folks with good old-fashioned mentalities. Was I fat? Hell no! I was "big-boned," y'all! I was a growin' boy with a growin' boy's appetite and big bones to match! The real question being… big bones.. For what, exactly?
I was the son of a marketing director and drove an Astro van to art classes after school. What on earth did I need big bones for? Sure, in some Slavic hovel on the frozen border of Lithuania, I believe there to be a need for the heartiness of truly big-boned people. But I wasn't birthing calves in a field in the perpetual darkness of Russian winter. I was chugging Capri-Suns and going to theater camp. The reality was, no matter how much ridicule I endured at school, or how humiliated I felt needing to shop for Big & Tall clothes at the age of 13, I was told, "You're just big-boned, baby…"
Genetic Mentality
To put it briefly, I was trapped (like so many children and, even still, adults are) in the cozy-comfort weighted blanket of "there's nothing you can do about your genetics." What was meant to salve the pain of unbearable otherism became a prison of accepting unhappiness as an unavoidable reality. While there is an abundance of scientific study that shows how our DNA can dramatically affect our ability to store, develop, and lose fat, the intoxicating mantra of "You come from a family of big people. That's simply the way it is." taught me only one thing: it's ok not to try. Everyone is big and that's just the way it is here.
I'm living proof that this is not, in fact, the way it always has to be.
I am a proud January Gym Baby. Though I had been working out at home since October, a friend slapped me into reality by insisting that, eventually, I would outgrow what could be done in my small, 1-bedroom apartment and I would have to join a gym. It was time to swallow my fear of working out in public and belly up to the bar. But did I know what I was doing? Absolutely not! Not a single lick of knowledge was stored in the "physical fitness" folder of my brain. When I started, all I had was a bad left knee and a body that weighed in at 400 pounds.
When I joined FFC, Tyler Sutphen was assigned to me for my new membership sessions. Internally, I groaned and begrudgingly thought, "Ok, let's get these sessions out of the way… hopefully they won't be as agonizing as I expect." True to form, nothing I worried would happen came to pass. Tyler didn't ridicule me. He didn't make me feel foolish for trying (or for failing). In fact, no one here ever has. Tyler became more than a trainer to me. He became a rock in my journey.
In nine months, I transformed from a limping, 400-pound, 30 year-old with a fear of working out, to a 5-time-a-week weight lifter with a strong stride and a body clocking in at 275.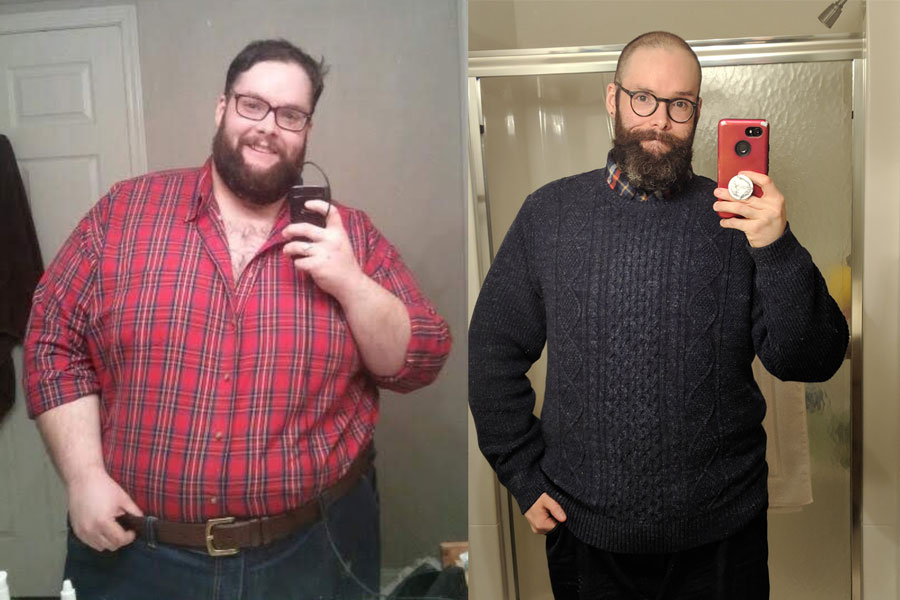 I did not do it alone, though. Having Tyler, the resources of FFC, the Myzone heart monitor… my life could not have been as easily changed without each of these. Not because any of these did the work for me, but because they provided the help to change my life on my own, on my terms. When I began, I lacked the knowledge, understanding, and ability to synthesize how to work out properly. Now, I know exactly what I'm doing, why I'm doing it, and how to continue challenging myself.
We don't all grow up with the privilege of having guidance on how to live healthfully – mentally or physically. Helping me to overcome the constant barrage of fad diets, miracle machines, and programs that guarantee results, Tyler explained to me that, quite simply, the gym is a microcosm of life with one ruling equation: consistency over time.
Related: how to be the best version of yourself (for you). Check out this refresher!
The Long Game
Working out one day a week for six hours will not yield the results that six one-hour days will. A little bit of something is better than a lot of nothing. The same is true for all aspects of life. Being a better partner? One night of attentive listening will not yield the results of several months of being present. A better professional? One day of really great work at a job is not going to guarantee success the way that slow, dedicated, thoughtful effort to a cause, a project, a process will. What trips the trolley is believing that success lies in how quickly you achieve your goals:
"I've been working out a whole week! Every day! Where is my weight loss??"

"I showed up to work on time every day this month! Where is my promotion??"

"I wrote that essay a while back! Why isn't anyone publishing me yet??"
A need to see immediate change is the death knell of many a motivated person. And that was the lesson I learned at FFC. That was the value I was able to take away. This is a long game. A lifelong one. And even in the short amount of time I've been on this journey—a scant year—I've had tremendous ups and downs. Feelings of failure, times when the scale didn't budge one single bit, regardless of how hard I threw that medicine ball. When the body dysmorphia struck and prevented me from being able to see the changes I have made… I trusted that this game is not a match of winners or losers. It's simply a game of those who try, in the face of tremendous adversity, and those who convince themselves they shouldn't.
Not everyone's story is the same and I will not condescend to believe that this is the case. We all have different abilities, different needs—mentally, emotionally, and physically. If my story motivates you to lose weight, I think that's wonderful—feel free to drop me a line on Instagram any time and I'll pep-talk your ear off. I'm sharing this to make a point: simply because you've been told one thing your entire life, does not make it unflinchingly true.
There is a stark difference between rhetoric and reality. Find your stride. Find what is worth the consistency over time. Be kind to yourself, utilize your resources, your friends, your loved ones, the team here at FFC. But first and foremost, let your efforts be for you.
Post written by FFC Union Station member Christopher Lewis.
About Chris
Chris is a home cook, baker, and a food stylist. He styles food/drink for commercial film and print. His Instagram is an extension of that work, as well as shots of his own, and links to his food writing.
Check it out here
!