FFC Elmhurst General Manager Scott Lewandowski is a 3-time Ironman finisher and 8-time Boston Marathon qualifier. When the statewide mandate for wearing masks while exercising indoors went into effect, Scott decided to try a variety of plastic mask inserts to help him breathe properly during speed interval workouts on the treadmill and high intensity training on the turf. Check out his findings below.
On Tuesday, November 24, I ran 5 miles on the treadmill with a traditional mask, and within 2.5 miles, my mask was soaked and I struggled to breathe. Elite Trainer Brent Yao then introduced me to plastic mask inserts that sit just underneath your mask and help prevent the mask material from clinging to your mouth when sweating and breathing heavily.
Related: So, what's it really like to work out in a mask?
The next day, I ran 5 miles with an insert under my mask. The first insert I tried is the Xinber Silicone Face Inner Support Frame (Large Size). It is 4" tall x 3.6" wide.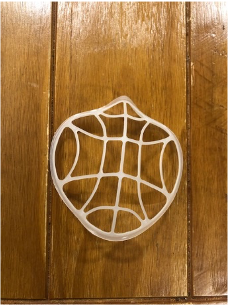 I found that it was easier to breathe with the insert, and I completed the distance 4 minutes faster than the previous day. This plastic insert was a bit big but made a huge difference in my performance.

I then decided to purchase additional plastic mask inserts and noticed that there were many different brands and styles. I purchased two other brands to test out for comfort and the Xinber inserts were sold out.
First, I ran 5 miles with the mask insert pictured below. It is the MicroBird Face Mask Bracket. This insert has clips to hook inside pleated masks and is 3.1" tall x 4.1" wide.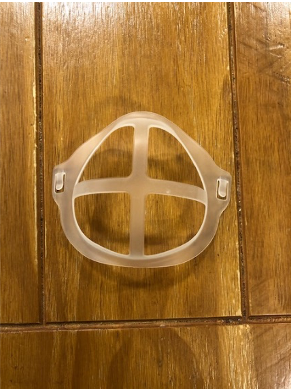 The clips intrigued me but my cloth mask does not have pleats to attach the hooks. This mask insert did move around during my run and was a bit annoying.
Next, I ran 5 miles with the mask insert pictured below.  It is the KDRose 3D Face Inner Bracket. The insert is 3.54" tall x 3.54" wide.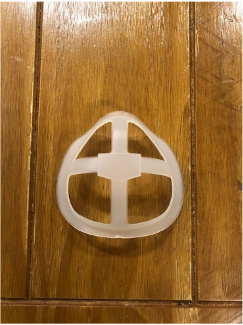 At first, I thought this insert would be too small for my face, but in fact, it fit perfectly and was more comfortable than the Xinber mask.
If you would like to give this mask insert a try, the KDRose 3D Face Inner Bracket will be available for $4 at all FFC locations by December 17.
There are so many insert options available to help you breathe easier while exercising with a mask. I hope my experience helps narrow down the best choice for you. If you have any questions, please feel free to contact me at sl@ffc.com.

Post written by FFC Contributor Scott Lewandowski.