My weight has gone up and down for the past 20 years. I would lose weight and be somewhat fit, but over time, I would gain it all back (and then some). I must have repeated this cycle three times over the past 15 years. I knew it was time for a fitness transformation.
Most recently, I ballooned up to 210 pounds, which was truly dreadful on my 5'8" frame. I worked out 3 or 4 times a week at FFC, but truthfully, I never gave it my full effort – I had to drag myself to the gym and I regarded working out as a chore.
Plus, I would sabotage myself by snacking excessively, especially in the evening or the middle of the night. I loathed my appearance and constantly beat myself up over it. Something had to change.
Additionally, I own fine Italian and English clothing, but I couldn't fit into any of it. My suits and jackets were size 40 – 42, my trousers were size 33 and my sportswear was medium and small. Much to my chagrin, I had to buy new, larger-sized clothes just to look halfway presentable. When I wore my suits and jackets, I couldn't button them and my belly hung over my pants.
The Breaking Point
The low point came when I needed to buy a suit for an in-law's wedding. My wife and I bought me a cheap polyester suit in a size 46. That was a heartbreaking experience for me because I am a sartorial aficionado who takes pride in his appearance. An important part of my very identity had been taken away from me because of my bad dietary habits and my lack of commitment to exercise and fitness.
I regarded weight loss success stories – whether on television, magazines or online – with a combination of envy and hopelessness. I was in my 50s, and had given up hope of ever looking trim and fit. I literally could not look at myself in the mirror… or even my reflection in a window, and I didn't like people looking at me because I (falsely) thought that they were judging me.
Knowing It Was Time For a Change
However, last October, I decided to made make a change once and for all. I spoke with my sister-in-law, and she told me of a weight loss program that helped her fit into the nice dress for her daughter's wedding – the wedding I attended in my size 46 suit (ugh).
After that conversation, I immediately started the same diet program as my sister in law: eating lower-fat, lower sodium, decreasing the size of my portions, eating smaller meals six times a day and daily drinking at least 64 ounces of water or zero calorie beverages. The pounds started to come off. However, that was not enough for me. I didn't want to be skinny – I wanted to be trim, fit and strong. I wanted to look like a man who obviously works out regularly. I was all in.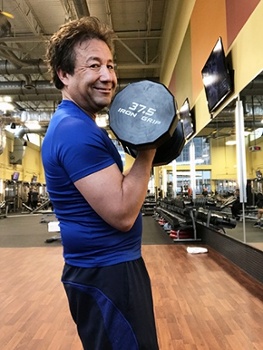 How FFC Helped Me Get There
This is when I became more diligent about working out at FFC. I began to work out 4 times a week consistently – three days of resistance training (machine and free weights) and abdominal exercises, plus a day of swimming 40 laps in an FFC pool.
I used the club's integrated app system (now MYZONE) to create a new routine for every workout. Like my diet regimen, the app provided me with the kind of structure that I needed to fulfill my commitment to fitness and good health.
As the pounds began to come off I reached an epiphany: I no longer regarded my workouts as a chore; rather, I began to look forward to coming to FFC and working out.
I cannot emphasize enough how important this realization was for me. I stopped telling myself that I was a helpless, undisciplined person who had to resign himself to being overweight and hating how he looked. I now owned – really owned – my new identity as a fit, healthy, strong and good-looking man.
I can now do honest-to-goodness pull-ups, which I had never been able to do in my entire life! I recently did 3 sets of pull-ups, (5 – 8 reps apiece) at FFC West Loop. I can swim 2,000 yards (40 laps) in 45 – 50 minutes. I am in the best shape of my life (ever!) and I weigh what I did in my late 20s, when I never worked out.
Related: check out everything FFC has to offer. Try us free – click here!
Change for the Better
Today, I love my fit, toned body. I am proud of my fitness transformation. I now have muscle definition – strong, muscular arms and a defined abdomen. I know that I can be in control of my own physical shape, and this has transformed the rest of my life. I have more energy and self-confidence. Everyone in my life has taken notice – my sister-in-law (who helped me start on this path) told me that I exude vibrance. Rather than hide behind shapeless clothing, I actually look for clothing that flatters my new look. I revel in that dramatic transformation that I myself created!
Years ago, my wife and I were at a housewarming party for a woman who was (and is) in great physical shape. She had a refrigerator magnet that read, "Would you rather have a tasty treat or a rocking body?" I am proud that I have finally opted for the sustained feeling of pride and good health rather than the temporary rush of unhealthy foods.
Related: check out this recent post about how to use intuitive eating to transform your eating habits.
I have been sharing my success and pride in my body on Instagram and Facebook, and I am pleased to say that I have received a lot of positive feedback and reinforcement. I truly hope that I model fitness and good health for others, and I want to inspire people who have weight issues but don't think that they can make a change. Thank you, FFC. I could not have done it without the support and encouragement of your staff and the quality of your facilities.
Post written by FFC West Loop member Lou D.