This past year, I decided it was time to get serious about endurance – specifically in swimming. I spent a lot of time researching and clicked through many web pages reading up on FFC's TriMonster Endurance program. "If not now, when?" I thought. This is how TriMonster helped me finish my first triathlon at 70 years young.
I began by tackling the swim portion, and went on vacation with a homework assignment of walking to build up stamina and swimming to build up endurance. Unfortunately, a few weeks into the vacation, I flew over the handlebars of my bike (which set me back a bit until I could hobble to the pool) but eventually recovered and got back on track.
Soon after I started my training, I attended a kickoff session for triathlon preparation at FFC Lincoln Park, where I learned about TriMonster.
I was not thinking about actually doing a specific race at that point, per say, but when I discovered that the Chicago Triathlon organization has a "kindergarten"-level entry, a nudge from Endurance and Swim Coach Terri Friel was all I needed to decide to go for it.
That winter, I participated in the Indoor Triathlon at FFC Lincoln Park, which for many members who biked, ran and swam regularly, was more of a warmup to the season. For me, it was a baby step. Before starting, I looked at the total and individual distances and thought, "if I can't do that, I'm not dong much." But I'm so glad I followed the TriMonster training program – I was skeptical at first but the endurance program did help me complete it. The fact that I survived all three parts was encouraging!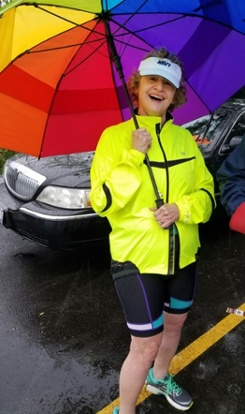 In preparation for the Chicago Triathlon SuperSprint event on August 27, I went to every single open water swim clinic sponsored by Lifetime. Lake Michigan is scary – and this is when you can see the shore! I struggled each time with wetsuits. But I did become adept and overcame an immense amount of trepidation about the swim portion. And this is coming from someone who swam a lot in the pool beforehand!
Andrea, my other trainer at FFC Oak Park, and Terri both worked together to come up with a plan to build strength and endurance, even when it was looking dim, to have me primed to finish the SuperSprint by walking both legs across the finish line. Andrea went to the expo with me to pick up my race packet. Of course, I joke that she was just making certain I was going to be there!
On race day, she even came to pick me up at my house, in the pouring rain, and kept pumping me up the whole way to the event. She helped me get into my wetsuit before going to the transition area and even managed to get down to the shore to jump up and down when she saw me emerge. I swear, she outdid my husband in her cheerleading. She stayed on the sidelines while I finished the on-foot leg of the race and kept up the positive energy. THAT is exceeding expectations!
"She did struggle with the swim at times, but perseverance provided her with enough force to get out of the water and onto the SuperSprint course at the Lifetime Chicago Triathlon in order to complete the whole course and cross the finish line. She finished first place in her age group and won an entry to the National Championship! We are all so very proud of her accomplishment this year!" said Coach Terri Friel.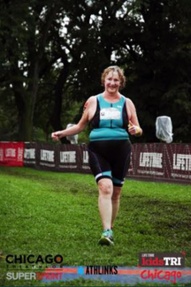 I don't think I ever worked so hard physically and played so many mind games to accomplish the awesome feat of finishing my first triathlon. Even the "kindergarten"-level triathlon is scary. Fortunately, I had the support of my age group, coach, trainer and husband, who were all on hand to see me finally emerge from the lake, complete my final transition, finish the biking portion, and with much cheering and sign waving, get me through the 'run' (which I walked, albeit quickly!) to get both legs across the finish line. Satisfying and priceless.
Now that I've got one event under my belt, I plan to continue the TriMonster program in order to improve my swim endurance and bike more efficiently. Triathlon Sprint, I'm coming for you.
Post written by FFC Oak Park member Maria D.