Stuffy nose, splitting headache and trouble sleeping. Sinus congestion can drain your energy levels for weeks. Did you know that massage therapy can provide relief for sinus congestion, pressure and headaches? Read on to learn how massage can promote drainage and alleviate pressure in your sinuses.
How Your Sinuses Become Inflamed
Your sinuses consist of eight hollow spaces in the bones of the forehead, cheeks and temples. Healthy, open sinuses are lined with sticky mucus to ensure that air going into the lungs is moist, warm and free from dust, dirt and pollutants. Without these filters, lungs, kidneys and blood can become permeated with toxins.
With sinus congestion, sinusitis or sinus infection, the linings become inflamed. The tissues become full of mucus and drainage is blocked. Increased pressure causes pain, swelling around the eyes, clogged nasal passages, chills, fever, dizziness and loss of appetite. If these tissues do not drain properly, an infection can ensue, causing further pain and discomfort. While antibiotics will remove the infection from the tissues, they do not promote adequate drainage of the blocked sinuses, which is why some people suffer from chronic sinus infections.
Related: Massage Treatments for Seasonal Affective Disorder
Massage Treatments for Sinus and Headache
During a sinus and headache treatment, your massage therapist will use proven massage techniques on the head, neck and upper chest to promote drainage. In addition, he or she may use gentle craniosacral techniques and acupressure points to help break up sinus congestion and promote drainage of the sinuses.
Sinus and headache treatments can be done in 30 minutes. Consider adding on 30 minutes to your regularly scheduled massage therapy to relieve your symptoms. Tension headaches, migraines and sinus pain have similar treatments, but with modifications for the specific symptoms and causes.
Most clients notice decreased congestion within 15 minutes of having a sinus treatment, and for chronic sinusitis sufferers, regular sinus treatments can help reduce the frequency of infection or even eliminate them completely.
A massage therapist could potentially be your greatest ally in your battle against sinusitis.
Related: Heal your cold quickly with these nutritious recipes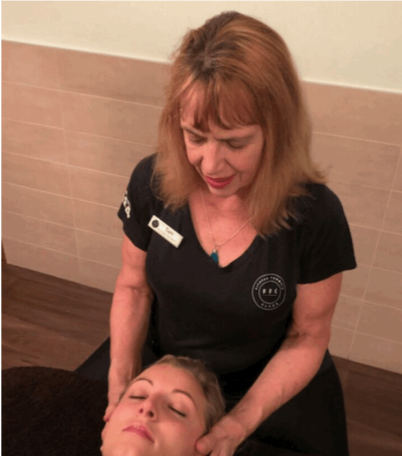 Post written by FFC Contributor Sam Margaret Wolf.
Sam Margaret Wolf, LMT, CST, is a Board Certified Massage Therapist at FFC Park Ridge. To schedule an appointment with Sam, please email mwolf@ffc.com.