Sure, running on the treadmill, busting your tail on the elliptical or kettlebell swings during a PTC class will help you rack up those Myzone Effort Points (MEPs), but that's not the only way to score them! The cool thing about the Myzone system is that it measures your effort based on your unique heart rate range and streamlines the reward system across the board. That means almost any kind of activity you can think of will earn you MEPs to track your workouts and foster friendly competition. If you're looking for a fun and different way to rack up the MEPs, you may want to consider spiking that heart rate and fatiguing those muscles with the help of rock climbing! This adrenaline pumping, full-body workout will be sure to bring you into the yellow and red zones before you ever even leave the ground! If you are finding yourself unmotivated or exhausted by the thought of your current workout routine, try shaking things up a bit with a fresh take on physical fitness and check out indoor rock climbing in Chicago. Here are some reasons why you should strap on the MyZone, harness up, and get climbing.
Climbing is a cardiovascular workout.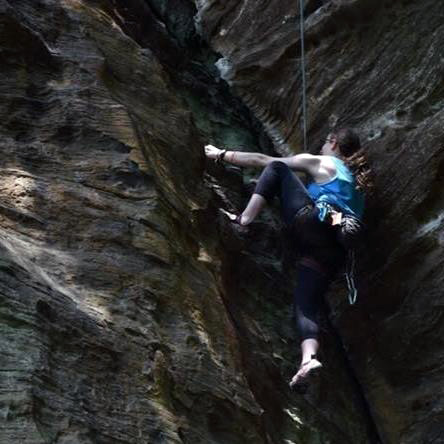 While climbing, you will feel your heart racing. It may be due to exertion. It may be due to nervousness. It may be due to both. Either way, your heart is working. A study conducted by Purdue University suggests that rock climbing performed at a moderate intensity is roughly equivalent to 244 steps per minute. This exceeds the estimated 222 steps per minute that are taken when running a 10-minute mile.
This year, I decided to join the fun and invest in a Myzone belt of my own! After a two hour, low-intensity bouldering sessions (more on bouldering versus rope climbing later!), I charted my first 229 MEPs. I also took it upon myself, my climbing buddy and my trusty stopwatch to record how much time I spent actively climbing. The breakdown estimates that I spent roughly 30 total minutes actively climbing, leaving myself with a measly 90 minutes of chatting and socializing! After all, I'm the queen of "climbing a little and chatting a lot!" Luckily for me, climbing was shown to be extraordinarily efficient when I decided to focus.
Climbing helps with strength training and muscle toning.
Thankfully, your heart is not the only muscle that will see some action during climbing. While climbing, every part of your body from your head to your toes plays a significant role in your ascent. All major muscle groups must work cohesively during your gravity-defying fun! These include your core, shoulders, back, biceps, triceps, quads, glutes, hamstrings, and calves. After one session, my back and shoulders are already screaming for a visit to the spa! Many new climbers are also surprised to find their forearms sore due to the grip strength required to remain on the wall.
You can tailor different workouts to cardio and strength training goals.
Because climbing is so versatile, you can structure your climbing sessions to place a bit more emphasis on either one of the aforementioned fitness components. There are two common forms of climbing: rope climbing and bouldering. These two are related to one another in the same way that marathon running and sprinting are related. While both fit under the large umbrella of "running," there are very different approaches to properly training for and performing these activities.
Rope Climbing
Think of climbing with a rope and harness as the marathon run. During these climbs, more focus is placed upon your respiratory output and endurance. The climbs take a longer amount of time to complete and are typically completed on a vertical wall, climbing upward. If a climber was interested in placing a greater emphasis on spiking his or her heart rate, it would be a great idea to spend time climbing laps on less difficult climbs.
Bouldering
Conversely, think of bouldering as the sprint. Bouldering is a different type of climbing that is done without ropes and harnesses. The routes are shorter and go nowhere near as high. Because of this, bouldering is often done with mats and padded floors. When the climber falls, they land on the mats. The movement associated with bouldering is often more powerful and technical, which calls for less respiratory output and more strength-building. Given that my first Myzone climbing session catered to strength performance, I was pleasantly surprised by the results. I can't wait to see what happens when I strap on my belt during an endurance session!
Climbing complements other workouts.
Climbing is a wonderful thing to do, but it shouldn't be the only thing you do! Reap the benefits of a stronger grip while maxing out on your deadlift. Squat with ease knowing that you regularly perform pistol squats while suspended 20 feet in the air on the climbing wall. Engage those back muscles to finally crank out the first of many pull ups. No matter what your fitness goals may be, just know that regularly climbing will help you get there.
Related: speaking of squats, check out these 8 great benefits of using weights in your fitness routine.
Climbing improves flexibility and mobility.
You will often find your body in very unorthodox positions while indoor rock climbing ("You want me to put my foot where?!"). Rock climbing regularly allows you to increase your overall range of motion, especially in your hips and shoulders. Many climbs call for far reaches and high foot placement. Performing these movements regularly will allow your body to adapt and strengthen accordingly.
Pairing rock climbing with regular stretching (dynamic warm-up stretching and static post-workout stretching) multiple times a week will also assist in improving your flexibility and mobility.
Climbing improves balance (and combats imbalance!).
While rock climbing, you are suddenly far more aware of your center of gravity because you are constantly shifting and moving. Determining the most efficient way to position your body and using your core to remain on the wall are of utmost importance. There will be times when there will only be one foothold for you to move from. As you ascend, you will need to stay calm and balanced while your second leg remains off the wall. This requires a great deal of balance and control!
Additionally, the combination of pushing and pulling motions required from both sides of your body will help eliminate muscle imbalances. Are you a righty or a lefty? Leave your friends guessing! There's no such thing as a strong side when you're this balanced!
Climbing helps develop functional strength.
That jar of pickles is no match for you! Never again will you need to hand over a jar and have someone "loosen it first". Climbing helps you to develop grip and forearm strength that will allow you to leave no jar unopened. You may not crush everything you hold into dust (I hope), but you will quickly notice a substantial difference in your hand and forearm strength.
Aside from your arms, other parts of your body will strengthen. The repetition of upward stepping will make every staircase a breeze. Your strengthened back and core will help alleviate some of the discomfort associated with poor posture. I hope you're ready to be the talk of the town for being one lean, mean, functional machine!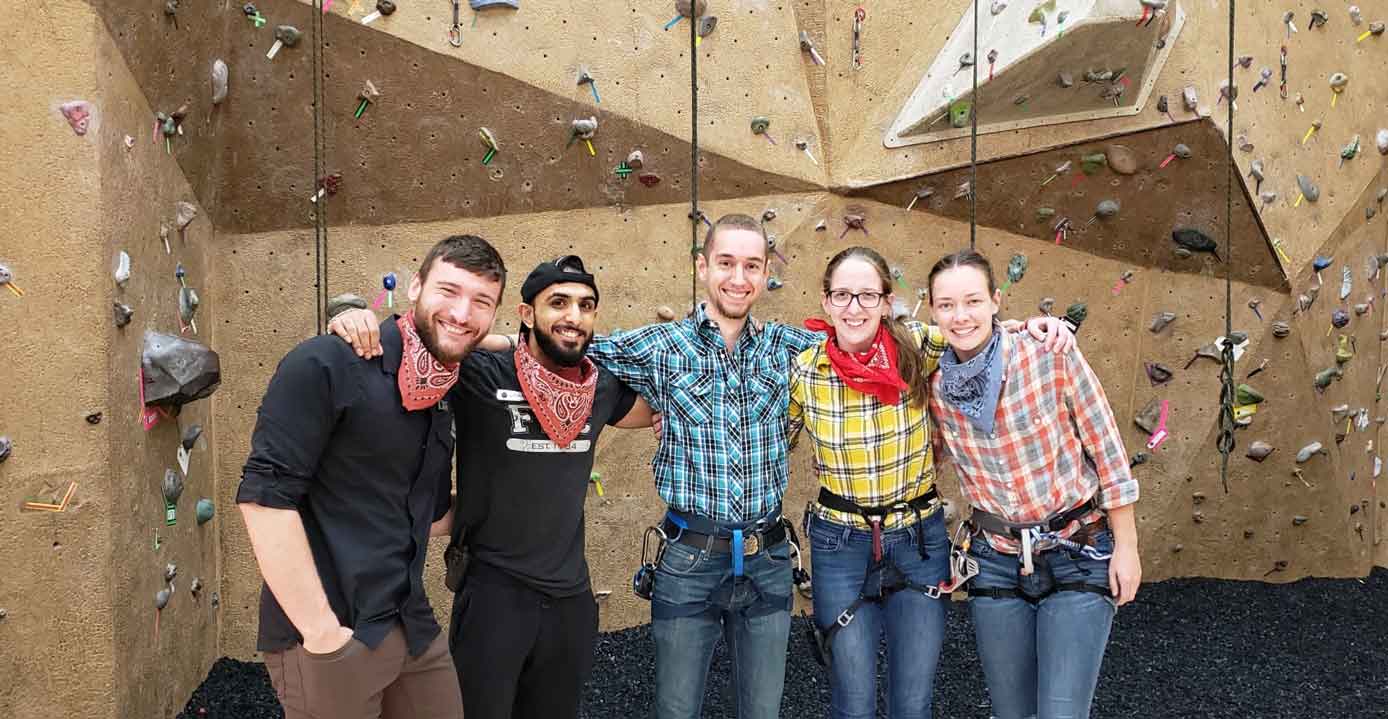 Climbing is a mental workout.
Every single route is a life-sized puzzle waiting to be solved. You must rely on your focus and problem-solving abilities to complete each climb. Assessing your personal skills and applying them to each step of your climb is extraordinarily important and thought-provoking. Additionally, every other thought and concern must be left on the ground below. For a few blissful minutes, you have no choice but to ignore the nagging voice in your head trying to convince you that you left the oven on!
Many individuals also use climbing as a creative outlet. As you become more familiar with your body, you develop an individual style of climbing. More than a few of our regular climbers embrace each climb as a form of choreography. They become very focused oh perfecting a sequence to a climb that was once difficult. We like to watch and learn from one another, embracing different styles of movement and attempting them. Climbing is a social sport by nature, and we take great pride in the community we form and the ideas we share in order to complete a climb!
But most importantly… climbing is fun!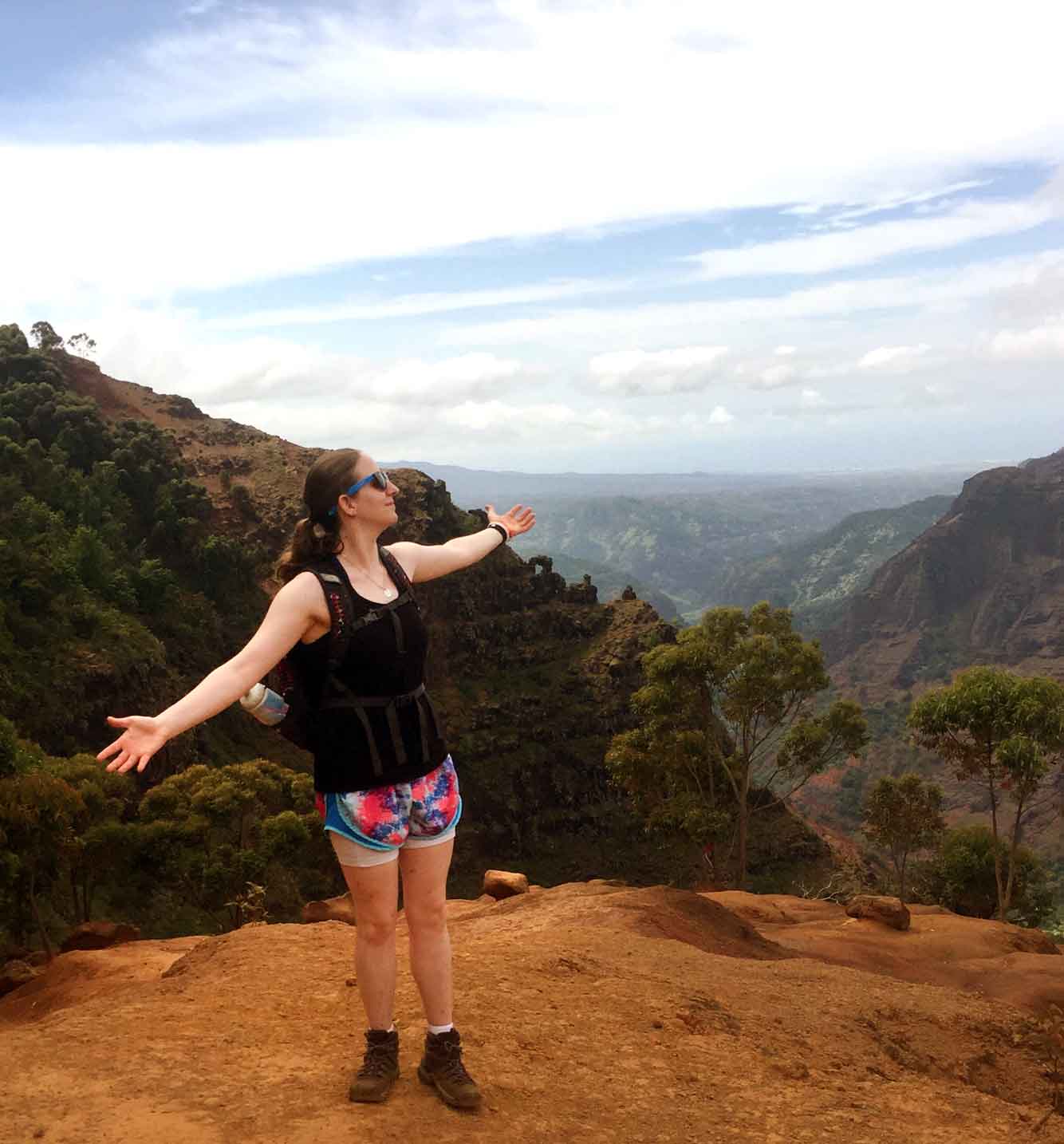 Whether you're overcoming a fear of heights or experiencing the euphoria of reaching the top of the climbing wall for the first- or hundredth- time…. the excitement never gets old. You will still feel as if you are on top of the world. Rock climbing provides you with a unique sense of accomplishment that you will find nowhere else in the club. There is always a new challenge for you to conquer, leaving you engaged. Join us for some indoor rock climbing in Chicago and enjoy the smiles, chalky high fives new group of friends that are cheering for you every step of the way!
While there are an infinite number of reasons to make rock climbing a regular fixture in your health and fitness program, this list is a great place to start. We challenge you to climb right out of your comfort zone and never look back. Reach new heights (literally) and joining our climbing community! Get climbing with us at our Oak Park and Park Ridge locations. For more class and program information, email Amy Brown at abrown@ffc.com.
Post written by Amy Brown, FFC Oak Park Climbing Wall Supervisor.
Pin this for Later: Indoor Rock Climbing in Chicago Benefits