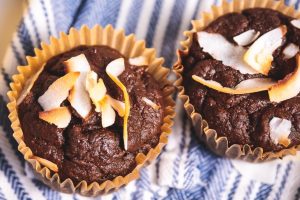 Most vegan baking recipes involve lots of oil, refined sugar and refined flour. While these treats are free of animal products like butter, milk and eggs, they can often be less than nutritious. Taking a whole foods, plant-based approach to baking means get rid of refined ingredients. That means no oil, no sugar, no syrup, and only whole grain flour. How can you create a moist, delicious chocolate muffin under those guidelines? The secret: Spinach.
Spinach Adds Moisture, Replacing Oil
Removing oil from a baking recipe can leave you with a dry, crumbly muffin. To replace this lost moisture, I used spinach. Like most vegetables, spinach is packed with water. Technically, you could use any green in this recipe. However, sweet baby spinach is the ideal plant-based ingredient. It has natural sweet flavor, which compliments the flavor of these muffins well. Plus, you can find pre-washed bags in the produce section. Which means it's quick and convenient.
To add even more moisture to the recipe, I also used unsweetened applesauce and unsweetened plain almond milk. These ingredients help create a smooth batter so that the muffins get plenty of rise during baking. You can use any plant-based milk for this recipe, though. Soy milk and rice milk also work.
Spinach is the secret ingredient to keep these oil-free muffins moist in this plant-based vegan recipe
Dates and bananas add sweetness, which means no refined sugar, syrup or honey
Unlike most vegan baking recipes, I want to keep this whole foods, plant-based. Therefore, I am trying to avoid refined ingredients like sugar, syrup or honey. Even so-called "healthy" sugars like coconut sugar and maple syrup are quite calorie-dense. Plus, they can spike your blood-sugar, making your energy fluctuate.
To sweeten this recipe, I used a combination of dried dates and ripe bananas. Pitted deglet noor dates add deep rich sweetness, similar to brown sugar or coconut sugar. However, they are loaded with fiber, which helps prevent your blood-sugar spike. Bananas have a lighter sweetness, similar to white sugar. They are also loaded with fiber and other nutritious vitamins and minerals like potassium, B6 and vitamin C. Using a combination helped balance the sweetness for these awesome plant-based muffins.
A blend of whole grain spelt flour and brown rice flour creates perfect texture
The last element to consider in this healthy vegan recipe was the dry ingredients. Again, many vegan baking recipes still use refined white flour. However, I wanted to use whole grain flours to keep this plant-based.
It took quite a bit of trial and error, but I found the perfect ratio of whole grain spelt flour and brown rice flour. Spelt flour has a nutty, rich flavor, which complements the chocolate flavor of these muffins. Brown rice flour helps retain moisture. This gives you moist muffins, with the perfect texture. Together, they create a crumble that has a good chew while also staying light and fluffy.
You'll love these plant-based oil-free chocolate secret spinach muffins. They are:
Moist and Perfectly Sweet

Freezer-Friendly

Kid-Friendly

Healthy

Chocolatey
Whole food, plant-based baking means you get more nutrition for less calories. We call this calorie density. Each of these muffins is only:
120 calories

1 gram fat

17% daily fiber

3 grams protein

36% of daily calcium
Level: Medium
Servings: 16 muffins
Ready In: 40 minutes
Ingredients
1 cup (200g) pitted dates

5 ounces baby spinach, about 4 cups

½ cup (114g) applesauce

1 ½ cups (330g) mashed ripe bananas (about 3 bananas)

2 teaspoons vanilla extract

6 ounces (3/4 cup) unsweetened plain almond milk

1 teaspoon instant espresso powder

1 cup (120g) spelt flour

½ cup (80g) brown rice flour

½ cup (48g) cocoa powder

2 teaspoons baking powder

½ teaspoon baking soda

½ teaspoon salt

¼ cup coconut flake
Directions
Preheat your oven to 350. Line 16 muffin cups with parchment paper muffin liners.

For the wet mixture: In a blender, combine the dates, baby spinach, applesauce, bananas, vanilla, almond milk, and espresso powder. Puree until smooth, scraping down the sides of the bowl as needed.

For the dry mixture: In a large mixing bowl, place the spelt flour, brown rice flour, cocoa powder, baking powder, baking soda, and salt. Use a whisk to combine.

Pour the pureed wet mixture into the bowl with the dry ingredients. Use a whisk to thoroughly combine. Try not to overmix as it will toughen the dough.

To portion and bake the Chocolatey Secret-Spinach Spelt Muffins: Portion the batter into the pre-lined muffin tin, filling each cup about ¾ cup full. Sprinkle the coconut flake onto each muffin. Place in the oven and bake 25-30 minutes, until a toothpick can be inserted and come out clean.

Remove and let cool 10 minutes in the muffin tins. Cool to room temperature. Then enjoy or refrigerate for later.
Chef Katie's Healthy Cooking Tips:
Spelt Flour: Spelt flour is milled from a whole grain, a member of the wheat family. It has a nutty flavor that accents the chocolate in this recipe. Find it in the baking section of most groceries, near the other flours.
Gluten-Free: Spelt is a member of the wheat family so it contains gluten. For a gluten-free version of this recipe, substitute with a gluten-free all-purpose baking mix.
Dark Cocoa Powder: For the best flavor, use a high-quality dark baking cocoa powder. It's worth investing in a product that has deep, rich flavor. This will make your chocolate baking more delicious.
Nut-Free: You can substitute a nut-free, plant-based milk for the almond milk. Soy milk, oat milk, and rice milk would work. Be sure to use plain, unsweetened milk for the best flavor.
Keep it Green: You can omit the cocoa and espresso for a Mean Green version of this recipe. Add ½ cup of spelt flour to make up for the cocoa powder. These end up tasting more like banana bread – a delicious, healthy, plant-based breakfast muffin!
Oil-Free Baking: I'm on a Mission to get rid of empty calories, like those found in refined oil. This recipe uses applesauce and whole foods to replace oil. For spray-free baking, use parchment muffin liners.
Post written by FFC group fitness instructor Katie Simmons. Some photos provided by Katie Simmons.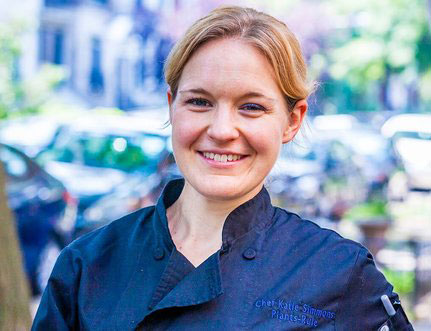 More about Katie: Katie is a group fitness instructor at FFC and is also a personal chef based in Chicago. She specializes in creating delicious, healthy recipes for those with special dietary concerns like gluten-free, oil-free, plant-based, and low-residue. You can see more at www.plants-rule.com. You can also see more recipes at www.facebook.com/plants-rule and follow her on Instagram at @chefkatiesimmons.
Nutrition Facts
Serving Size:
1 muffin
Amount Per Serving:
Calories 120
% Daily Value
Total Fat 1g 2%

Saturated Fat 1g 3%

Cholesterol 0mg 0%

Sodium 189mg 8%

Potassium 278mg 8%

Total Carbohydrates 27g 9%

Fiber 4g 17%

Sugar 12g

Protein 3g 5%

Calcium 36%

Iron 6%

Vitamin A 17%

Vitamin C 12%