German Potato Salad – Healthy, plant-based, oil-free, fat-free, gluten-free, easy vegan recipe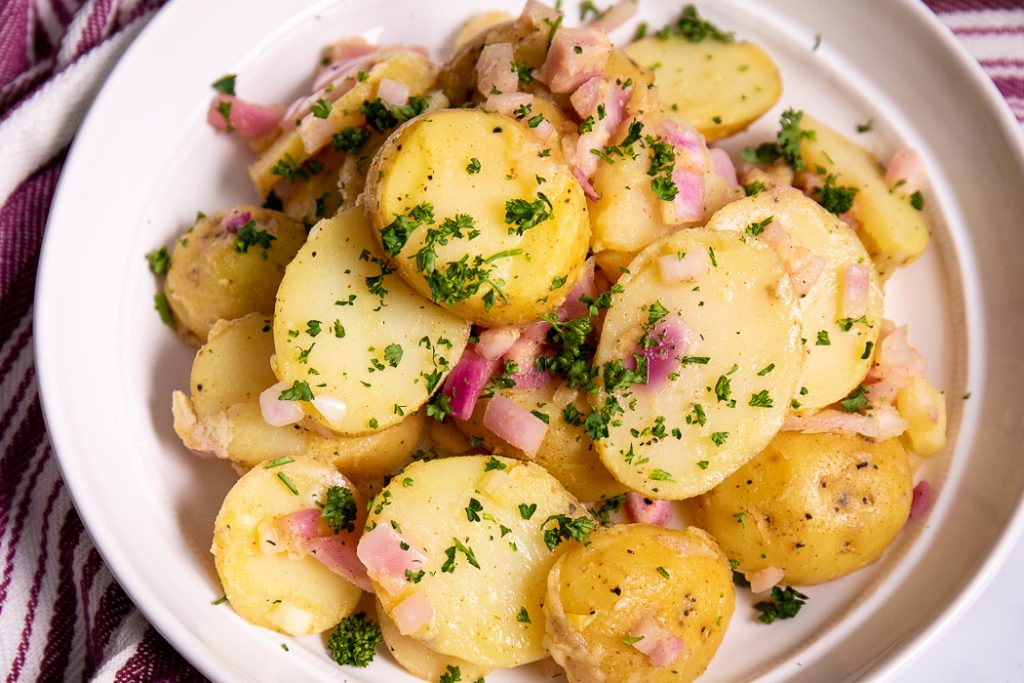 EASY | SERVINGS: 6 | READY IN: 20 MINUTES | YIELD: 8 CUPS
This simple recipe is a healthy, vegan twist on a classic summer favorite. Traditionally made with bacon and cider vinegar, this plant-based version gets bold flavor from smoked salt and spicy brown mustard. Serve this side dish for a gluten-free side that everyone will love.
Ingredients
3 pounds Yukon Gold potatoes, cut into ½-inch thick disks
¼ cup apple cider vinegar
4 teaspoons spicy brown mustard
½ red onion, diced
1 teaspoon smoked salt
¼ teaspoon ground black pepper
¼ cup water (use the water from boiling the potatoes)
Related: Put one of these mocktails on your next party menu
Directions
To boil the potatoes:
Place the potatoes in a medium pot and cover with a couple of inches of water. Cover, bring to a boil, and reduce to simmer. Simmer until knife-glide tender, about 6-8 minutes. Because the potatoes are thinly sliced, keep an eye on them – it won't take them long to be done.
To make the healthy vegan german potato salad:
While the potatoes simmer, prepare the other ingredients for the salad. In a large bowl, combine the cider vinegar, spicy brown mustard, red onion, smoked salt, and black pepper. Toss well to combine. After the potatoes have simmered for a few minutes (and have started to release some of their starches), portion out ¼ cup of the water. Add this to the bowl with the dressing ingredients.
When the potatoes are done simmering, remove from the heat, and drain well. Immediately add them to the bowl with the dressing ingredients. Toss well to combine. Taste to adjust seasoning.
Enjoy immediately, while still warm.
Related: Craving ice cream? Try one of these healthy ice cream recipes
Nutrition Facts
Servings 6.0
Amount Per Serving
Calories 144
% Daily Value *
Total Fat 0 g
0 %
Saturated Fat 0 g
0 %
Monounsaturated Fat 0 g
Polyunsaturated Fat 0 g
Trans Fat 0 g
Cholesterol 0 mg
0 %
Sodium 434 mg
18 %
Potassium 961 mg
27 %
Total Carbohydrate 41 g
14 %
Dietary Fiber 3 g
13 %
Sugars 2 g
Protein 5 g
9 %
Vitamin A
0 %
Vitamin C
69 %
Calcium
3 %
Iron
9 %
Post written by FFC group fitness instructor Katie Simmons. Some photos provided by Katie Simmons.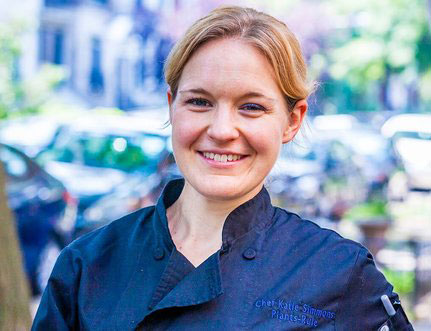 More about Katie: Katie is a group fitness instructor at FFC and is also a personal chef based in Chicago. She specializes in creating delicious, healthy recipes for those with special dietary concerns like gluten-free, oil-free, plant-based, and low-residue. You can see more at www.plants-rule.com. You can also see more recipes at www.facebook.com/plants-rule and follow her on Instagram at @chefkatiesimmons.