Sweet, nutty and tangy, this vegan, gluten-free salad hits it all. The ingredients in the salad work double-duty as the ingredients for the oil-free dressing. Walnuts provide healthy fats. Apples and raisins add natural sweetness, and Dijon adds a tangy kick. This will win over any veggie skeptic. Serve with Butternut Squash Bisque, Mushroom Soup with Barley and Leek or Farro Vegetable Soup for a satisfying dinner.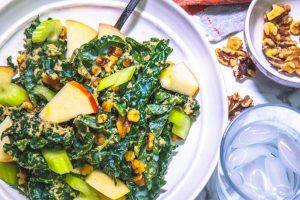 Level: Easy
Servings: 6
Ready In: 15 minutes
Ingredients
1/2 cup

chopped walnuts

1/2 cup

raisins

2 sweet, crisp apples (like Gala, Fuji, Braeburn or Honeycrisp)

3 stalks celery, thinly sliced

2 tablespoons Dijon mustard

Salt and Pepper, to taste

2 tablespoons

Champagne vinegar

1 bunch lacinato kale
Directions
To prep ingredients:
Soak raisins in about 1/4 cup warm water, to soften. Toast walnuts in a 375 degree oven, 10-13 minutes, until golden and aromatic. Remove and let cool.
To make salad:
Strip kale from stems and thinly slice.
Place half of the celery, apples, walnuts and raisins in one bowl with the kale. This is your salad.
Place the other half in another bowl, along with the raisin soaking liquid, and mustard. This will become your dressing.
Place dressing ingredients in a blender with a couple tablespoons of water. Puree. Dressing should be a pourable, creamy consistency. Add water as needed to reach this consistency. Taste for salt and pepper.
Add dressing to salad ingredients. Use your hands to mix well.
Serve and enjoy. Gets even better after a day.
Related: 10 ways to increase your veggie intake
Chef Tips:
Apple Varieties:

Choose any sweet, crisp apples for this salad. Or, try it with pears!

Kale Varieties:

Kale comes in lots of varieties, including green curly, dark Tuscan and purple. Even the dark Tuscan kale has similar varieties like Dino and Nero. The original Italian version of this recipe calls for dark Tuscan kale, but you can use whatever variety you like.

Champagne Vinegar: This clear vinegar provides a light, mild flavor and is not as harsh as other acids like white wine vinegar or lemon juice. You can use it in other recipes calling for these ingredients.
Yield: 9-10 cups
Post written by FFC group fitness instructor Katie Simmons. Some photos provided by Katie Simmons.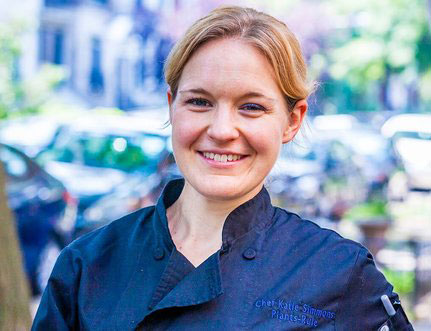 More about Katie: Katie is a group fitness instructor at FFC and is also a personal chef based in Chicago. She specializes in creating delicious, healthy recipes for those with special dietary concerns like gluten-free, oil-free, plant-based, and low-residue. You can see more at www.plants-rule.com. You can also see more recipes at www.facebook.com/plants-rule and follow her on Instagram at @chefkatiesimmons.
Nutrition Facts
Serving Size:
About 1/6 recipe, 1 – 1 1/2 cups
Amount Per Serving:
Calories 134.17
Calories From Fat (44%) 59.35
% Daily Value
Total Fat 7.1g 11%

Saturated Fat 0.68g 3%

Cholesterol 0mg 0%

Sodium 99.8mg 4%

Potassium 440.89mg 13%

Total Carbohydrates 17.27g 6%

Fiber 2.04g 8%

Sugar 0.62g

Protein 4.13g 8%

Calcium 59.99mg 6%

Iron 89.04mg 495%

Vitamin A IU

Vitamin C 0mg 0%