With the weather getting colder, it's getting easier and easier to stay inside – so much so that you might start to feel a little cabin feverish! Don't worry – the global flavors of these easy lettuce wraps (that are also vegan AND gluten-free) are a light, delicious way to elicit the wonders of the world – without stepping foot into the ever-dipping wind chill. These Egyptian spiced avocado corn radicchio lettuce cups are packed with delicious, healthy flavor and work for more than just dinner. Serve them as a light appetizer at a party or serve them to your kids for a fun hands-on dining experience. Crunchy, creamy, and refreshing – these lettuce cups are satisfying any time!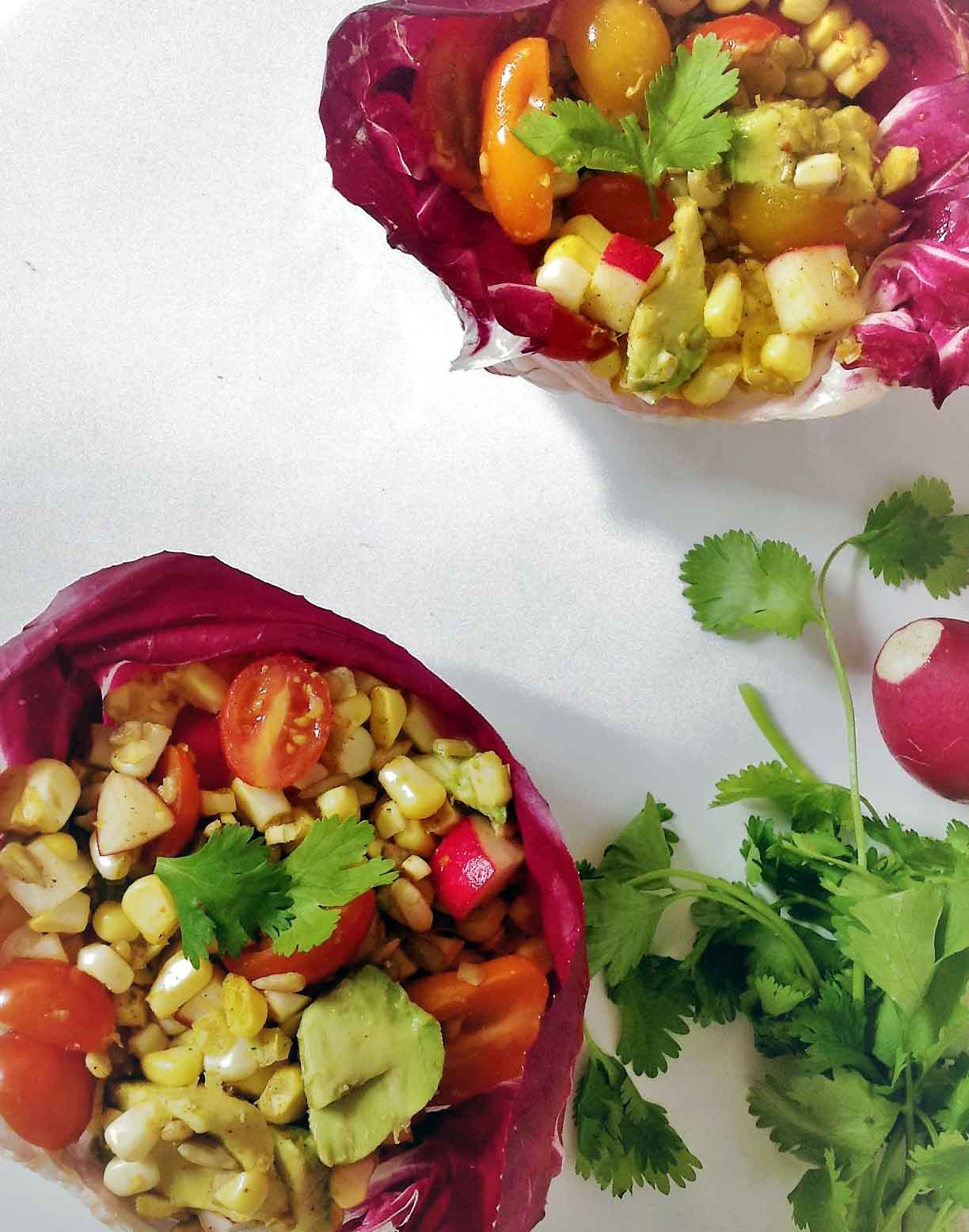 Level: easy
Servings: 6
Ready in: 10
Ingredients
1 head radicchio lettuce *
4 ears corn
6 small radishes, diced
1 pint grape tomatoes, halved
1 large avocado, diced
1 cup sunflower seeds**
2 teaspoon cumin
1 teaspoon each: paprika, coriander, turmeric
½ teaspoon cinnamon
½ teaspoon salt
¼ teaspoon black pepper
Fresh cilantro, to garnish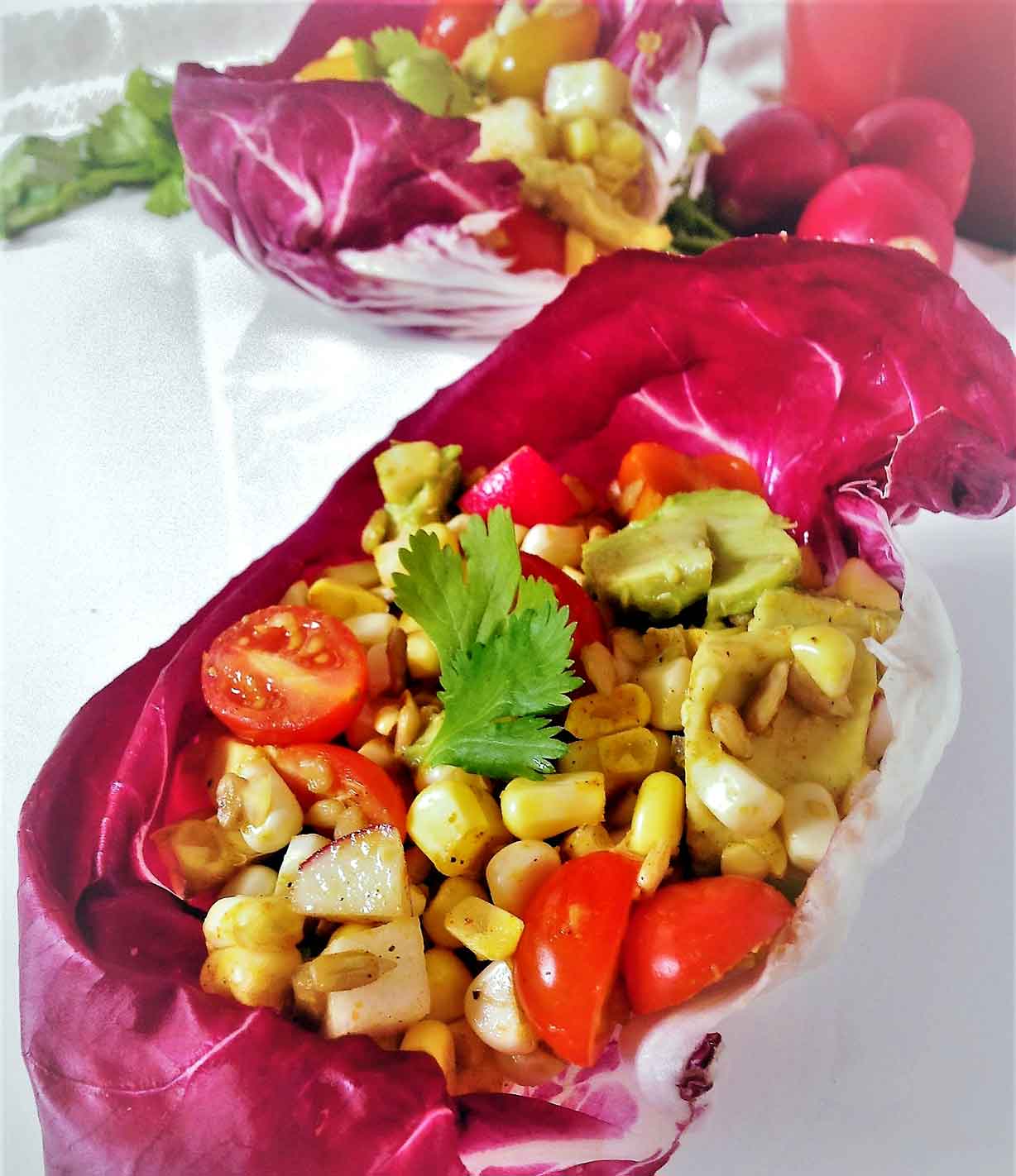 Directions
To prepare the radicchio: use a small paring knife to cut a circle around the core of the lettuce. Remove the core. Gently peel off the radicchio leaves, one at a time, until you have reached the small heart of the lettuce. Wash and rinse the radicchio leaves. Set aside to let dry.
To make the Egyptian spiced avocado corn filling: husk and wash the corn. Cut off the kernels from the cob. Place into a medium bowl. Trim and dice the radishes. Halve the grape tomatoes. Pit and dice the avocado. Add these to the bowl with the corn. Add the sunflower seeds, cumin, paprika, coriander, turmeric, cinnamon, salt, and pepper. Stir well to combine. Taste to adjust seasoning.
To make the radicchio cups: Fill each radicchio cup with about ½ cup of the avocado corn filling. Garnish with fresh cilantro and serve.
* Radicchio lettuce tip: radicchio is a bitter salad green, adding an interesting flavor to balance the sweetness of the corn and the richness of the avocado. If you don't enjoy the bitter flavor (or if making this for kids and picky eaters), swap out the radicchio for bibb or even romaine lettuce.
** Chef's calorie tip: If you want to reduce the amount of calories in this recipe, swap out the sunflower seeds for a can of chickpeas or a cup of raw, sprouted beans. The chickpeas and beans will be lower in fat, while adding extra fiber and protein.
Yield: 12-16 lettuce cups (5-6 cups of just the filling).
Post written by FFC group fitness instructor Katie Simmons.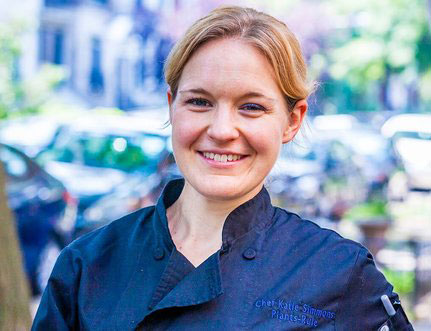 More about Katie: Katie is a group fitness instructor at FFC and is also a personal chef based in Chicago. She specializes in creating delicious, healthy recipes for those with special dietary concerns like gluten-free, oil-free, plant-based, and low-residue. You can see more at www.plants-rule.com. You can also see more recipes at www.facebook.com/plants-rule and follow her on Instagram at @chefkatiesimmons.
Nutrition Facts
Serving size: 1/6 of a recipe (about 2 or 3 lettuce cups).
Amount Per Serving
Calories 262.38
Calories From Fat (57%) 148.42
% Daily Value
Total Fat 17.74g 27%
Saturated Fat 1.9g 10%
Cholesterol 0mg 0%
Sodium 219.74mg 9%
Potassium 679.02mg 19%
Total Carbohydrates 23.82g 8%
Fiber 6.31g 25%
Sugar 6.85g
Protein 8.53g 17%
Calcium 16.78mg 2%
Iron 42.75mg 238%
Vitamin A 519.82IU 10%
Vitamin C 9.92mg 17%
For Your Pinterest: Easy Lettuce Wraps: Egyptian Spiced Salad Lettuce Cups