It's no secret that Pilates and dance have a long history together. Although Joseph Pilates worked with and developed cross-training exercises specifically for many different types of athletes, including boxers, soldiers and circus performers, it was his relationship to ballet and his protégée Romana Kryzanowska that solidified Pilates into the method that we know today.
Romana, who was a ballet dancer herself, worked extensively with Joseph Pilates. At one point in her career she suffered an ankle injury; this first meeting turned into years of work and development with Mr. Pilates on his method of "contrology".
Related: here to sign up for a complimentary Pilates session!
Pilates in Practice
Although Pilates rightfully believed his method to be fitting for every body, dancers seemed to benefit especially from his "contrology" method. From years of stretching, external rotation of the legs from the hips, knees, and ankles, and dynamic ranges of motion, dancers are left with highly flexible muscles and joints.
While these physical attributes may be aesthetically pleasing, they leave the dancers' body compromised – much like many sports. Joseph Pilates' method is built on 4 principles that start with s: stretch, strength (muscular), stamina and stability. While most dancers have "stretch" nailed down, it's the other three "s's" that dancers need and get through cross-training: strength, stamina and stability.
Related: read the account of this instructor's life-changing transformation through Pilates, pre and post-hip surgery.
Aiding with Injury
Because of the work that dancers do, they are at risk for many injuries. Injury is a part of the life of the dancer. Women who dance en pointe struggle often with foot and ankle issues, and any dancer who jumps frequently may struggle with Achilles tendonitis. Many male dancers have to lift other dancers, sometimes fully lifting another dancer's body weight over their head, in a move called "Le Grande Pressage". These dancers often struggle with lower back issues after years of lifting in rehearsals and during performances.
Pilates can help these performing professionals overcome and safeguard themselves from these injuries. The Pilates workout is a core-distal workout, which means the exercises work from the core muscles out to the extremities. Dancers (and any person, really) benefit from this workout by strengthening the core muscles which help to align the skeleton properly, which in turn makes everything else in the "system" (the body) work as it should.
Cross-Training Claim to Fame
As athletes strengthen themselves from the center out, all of their movements become more economical, thus creating a way of moving that reduces the stress incurred on the body and reducing injury. It is this cross training that not only dancers, but athletes (especially professional athletes like baseball and hockey players), runners, golfers and many others have come to depend on for minimum physical risk and maximum reward.
Post written by FFC Lincoln Park Pilates Instructor Wade Schaaf.
About Wade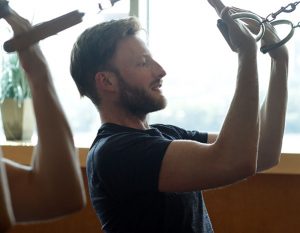 Wade Schaaf is a certified Pilates instructor, a certified RedCord instructor and is also a Pilates teacher trainer in the Classical Pilates Formula FFC program.
He specializes in all types of work, with a focus on Pilates for athletes and dancers, and Pilates for injury, recovery, and especially back injury. Want to set up a complimentary Pilates session at FFC? Email him at wschaaf@ffc.com!