Have you ever wondered what it takes to be a professional hockey referee? Skating for the entire duration of games, keeping up with the players and even getting into the middle of fights, these athletes need to be in the best shape possible. We recently had the opportunity to do a Q&A with FFC member Jonathan Sladek about what it takes to be a professional hockey referee and how his training at FFC South Loop helped him achieve his goals and get to the AHL!
Tell us a little about yourself.
My name is Jonathan Sladek. I'm 27 years old and I'm a referee in the American Hockey League and United States Hockey League. I played DII hockey in college at the University of Iowa from 2008 – 2012.
Transitioning from playing to officiating professionally came pretty naturally for me. I've actually officiated hockey since I was 12 years old. During the summer months (our off season), I like to hang out on the lake. I'm also a big snowboarder and surfer.
How did your training help you achieve your goals?
My ultimate goal is to get hired in the NHL. Before joining FFC, my goal was to get hired in the American Hockey League. Fitness Formula Clubs is a gym that feels like home to me. In such a big city, there aren't many gyms where the training staff knows you on a first name basis. Coming to FFC South Loop every afternoon is the best part of my day.
FFC South Loop personal trainer Ben Timmis worked with me this past summer in my preparation for the NHL exposure combine. At the combine you are scouted as a referee in the same way that players are scouted. My training helped me prepare for the physical on and off-ice testing.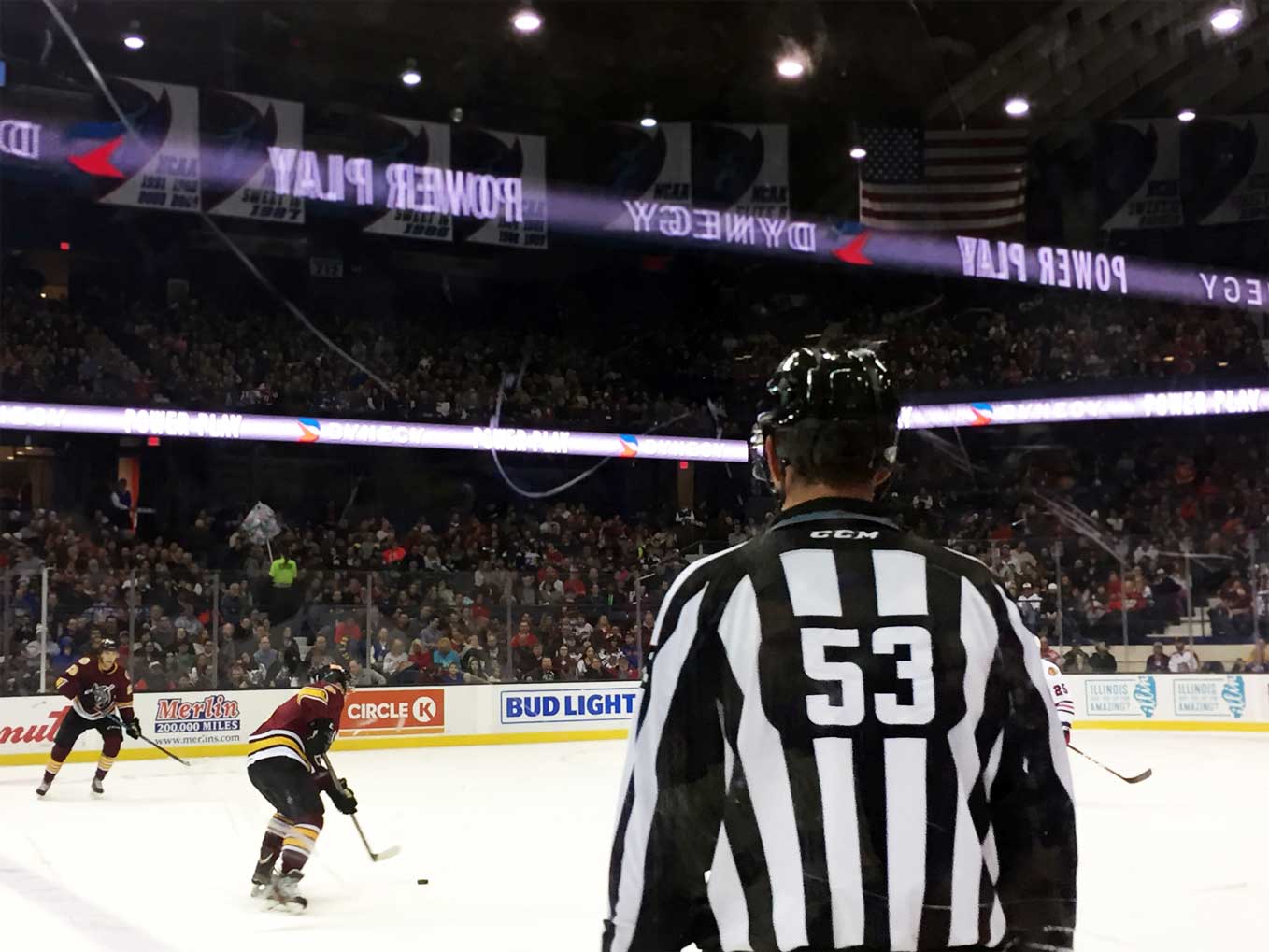 What kind of workouts do you do? Any you'd like to share?
I lift weights year round 5 days a week and officiate or play recreational hockey 2-3 days a week. In addition to lifting, my cardiovascular workouts are all hockey oriented. As officials, we skate the entire duration of the game so leg strength and both aerobic and anaerobic training is key.
Exercises:
Slider Board
Bike Wattage Test
Treadmill Endurance Test
Boxing
Parachute Sprints
1 mile runs = 300-meter jog and 100-meter sprint x 3
What kind of challenges have you encountered on your journey?
Nutrition – hockey is a long season, and eating the right things throughout the week and on game days is critical.
Travel – most guys travel 300-600 miles every weekend and work throughout the United States. Time away from friends and family is one of the many sacrifices I make to do what I love. But we get to see some pretty cool places and the ice is my second home!
Mental focus – the game moves really quickly. Officials are really good at skating, especially during their career. What separates the better officials are the ones that can mentally stay focused the duration of the game and have a great hockey IQ.
How did you overcome these obstacles?
I made a plan, worked with Ben the entire summer, and also met with a nutritionist to cut body fat. I also ran through the combine tests that I was preparing for throughout the summer.
Sticking To a Routine Is Key
The day before games, I like to get a good night's rest and stick to a routine on game days. I'll get a light workout in the morning and have a pasta dinner around 3 PM. When I get to the rink I like to stretch, do my homework on the teams playing, stretch and play two touch (a soccer game) with my officiating crew. Getting into a routine and mentally preparing for the game from the minute I wake up always helps my performance.
Is there any advice you'd give to someone who is looking to train athletically for a specific goal?
Make a plan and stick to it. Every day you aren't training someone else is getting better than you. Hard work gets noticed!
Post written by FFC South Loop member Jonathan Sladek.