How FFC member Ian LaBelle overcame a devastating sports injury, found a new passion and life purpose raising funds and awareness for an amazing cause.
I was a pretty average kid growing up in New England. I had a supportive family, was decently athletic through my early childhood and high school, had a large group of friends from home, and was extremely involved at my college. This may seem like an ideal way to grow up, but for me, those years felt like I was just going through the motions of what was expected of me. As my college career came to, I realized that person was not who I was. So I did something I never thought I would have the courage to do – I decided to come out to my family and friends. I knew that by doing so, everything from that moment on would capture who I really was as a person, friend, brother, son and an athlete.
As if this decision wasn't life changing enough, I moved to Chicago just a short 2 months after graduation. I had no job and no friends. Only a signed lease for a one-bedroom apartment that I had never seen a picture of, (some may say this was very brave). I reflect back and try to imagine what on earth my parents were thinking, letting me sign a lease without seeing a single picture! They must have seen a lot more in me than I ever did – something I will forever be grateful for. That spontaneous, slightly stupid (and do I dare say brave) moment has led me to this very appreciative spot I find myself in. I have a partner who I can't imagine a moment without, a group of friends and family that have always supported me and my crazy passions, and a massive goal to raise $25,000 dollars for the 2019 AIDS/LifeCycle bike ride this June.
Becoming an Olympic Hopeful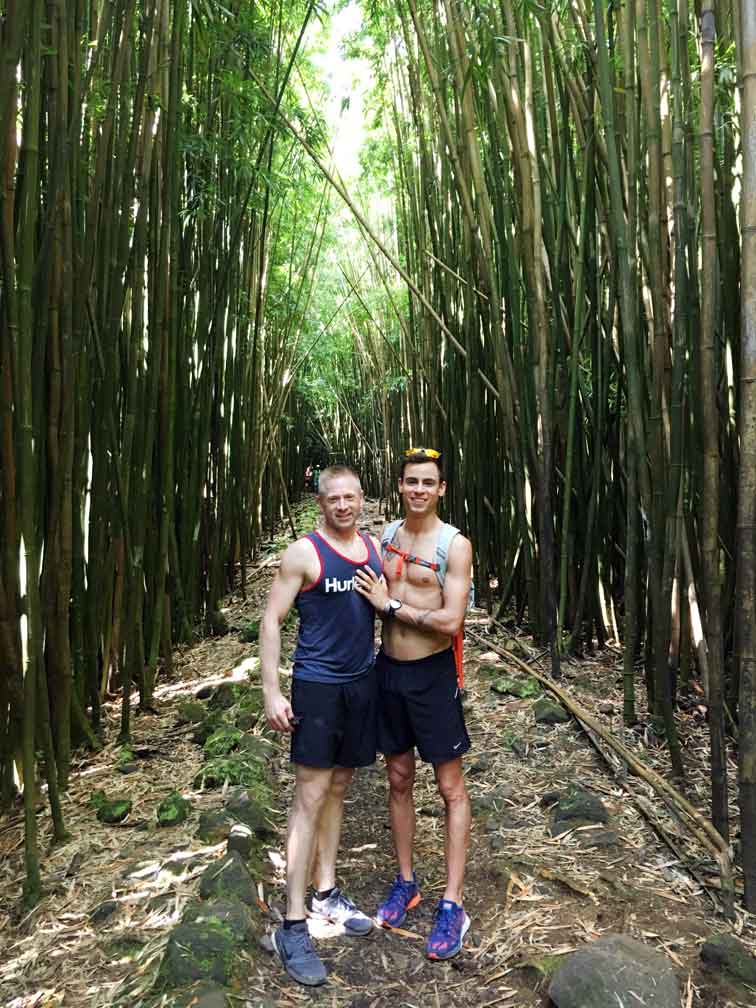 My partner, Chris, introduced me to FFC about 6 years ago when we first met. Soon after, I became a member and fell back in love with being physically active, setting goals, and accomplishing them. FFC allowed me to explore new outlets that I previously did not have access to. Chris always encouraged me to push myself to achieve more than I ever though I was capable of. Pipe dreams soon became realities, and two years later, I found myself toeing the line of the Boston Marathon, only a few feet behind the elite leaders, competing for the Fleet Feet Men's Elite team.
Training at FFC East Lakeview had allowed me to discover a potential in distance running that I never knew I had. As a first-time runner, I trained for my first marathon at this location. Not really knowing what I was doing, I completed the majority of my runs through the disturbingly cold Chicago winter months on the treadmill. Living in the building the gym was located in allowed me easy access to the facility I soon became close with some of the trainers as they offered me their experience and advice as how to best optimize my training. My goal was to somehow obtain a Boston Marathon qualifying time. That spring, I ran my first race in Louisville, KY and qualified for the Boston Marathon on my first attempt.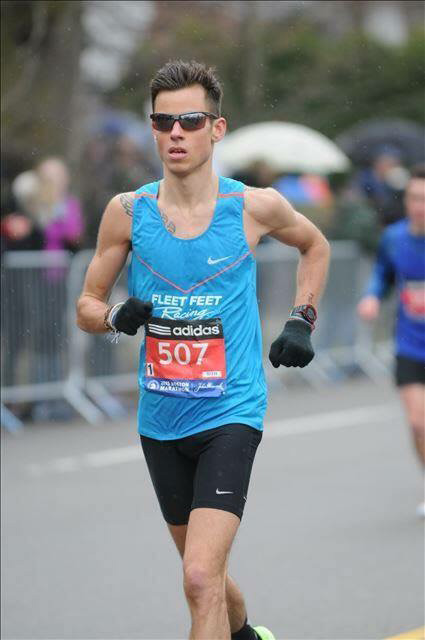 There were tears in all of our eyes as I crossed the finish line – an overwhelming emotional response for all, comprehending what I had just done. I instantly knew that I had a talent for distance running and qualifying for Boston soon became not enough. My sights were immediately set on something much larger: the Olympics. My new goal was to run an Olympic qualifying time at the Boston Marathon. A year and a half later, I ran my best race (and time) in Indianapolis, IN. I finished the marathon in 2 hours and 28 minutes. I felt there was nothing that could knock me down after that because I felt so strong after I finished. I knew I would achieve that standard.
Dealing with Devastation
About two months after Indianapolis, I found myself at doctor #3 trying to get to the bottom of my sports injury and figure out why my ankle and calves would lock up every single time I would try to run. I would spend the next year and a half trying to get back to where I was. Every time I thought I saw the light at the end of the tunnel, I'd stumble back twice as far. I was upset, furious and depressed. I felt my identity was stolen from me.
Then one day I just stopped running. I stopped caring. I turned around and realized that the only reason I was able to still stand when I felt so defeated and torn down was because Chris, my friends and my family were still standing behind me. Even when I put them last.
In hindsight, this goal had a large price tag on it, and I almost paid that price – not only with a sports injury. Running at a high level is a very individually-focused endeavor. The running community is one of the most welcoming, friendly and passionate groups I have ever been a part of. I loved my running family. Their support was amazing, but I was only concerned about my goal and getting myself over that finish line. I was willing to sacrifice everything for that one gratifying moment. What I've come realize now was that my obsession to achieve an Olympic qualifying time was coming at the cost of some of those I hold so close to me now.
Related: how ultra-marathon runner Nisha recovered from her mentally and physically taxing events and found a community at FFC.
Rerouting and Recovery
The began to invest the enrichment I found in competing elsewhere: in people, friends, family. My active lifestyle became focused around doing things I wanted to do. My focus wasn't on consuming 100+ mile weeks, monitoring my food intake to make sure I was always running at my prime weight. I realized that my previous obsession was not healthy, mentally or physically.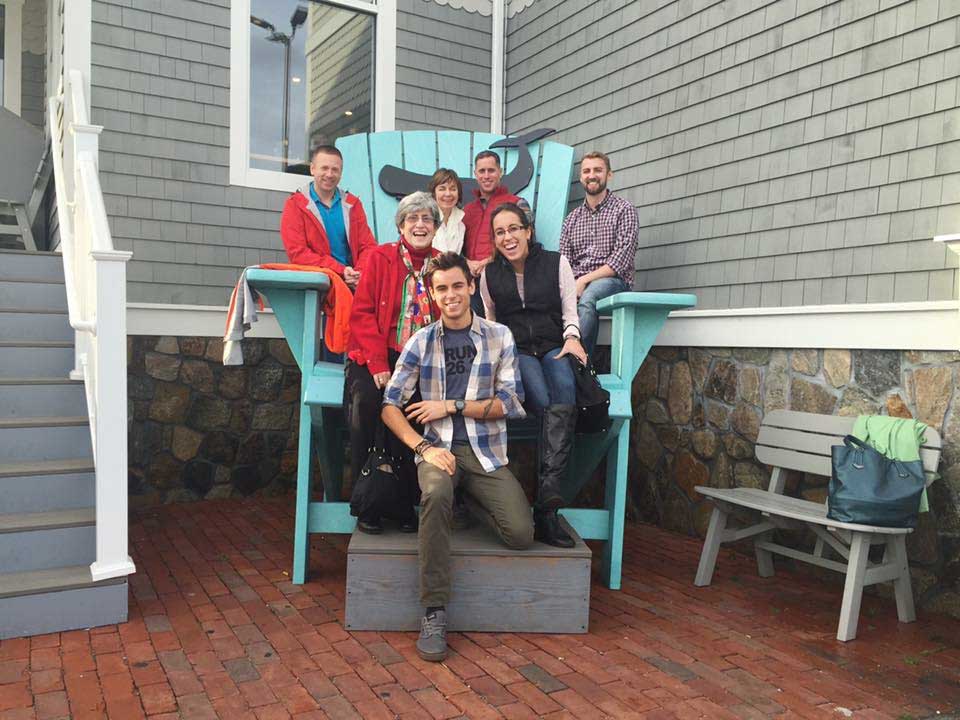 Chris encouraged me to get a road bike and explore a different type of endurance outlet since my sports injury were still not allowing me to run much. I still yearned the feeling of just being out on the road for hours, that feeling of an endurance high. Dave Zimmer, the owner of the Fleet Feet Spots locations in the Chicagoland area, encouraged me to come into their Deerfield location to get fitted for a bike. I will always be forever grateful to Dave, Fleet Feet Sports and my teammates on the Men's Elite team for how they supported me through my running successes, through injury, and with my decision to pull out for running competitively.
I began riding daily, whenever it was nice outside. 50, 60, 70, 90+ mile rides, whatever I felt like doing that day. I loved where my bike was able to take me. But knowing how I got to this happy place, I knew that something was still missing. I could ride my bike for hours and hours and hours; I loved it. I wanted to find an outlet that I could channel this passion for a positive change. That is when I discovered the AIDS/LifeCycle ride in California.
Channeling Energy into a Cause
The AIDS/LifeCycle ride is a 545-mile bike ride that begins in San Francisco and ends in Los Angeles 6 days later. This ride raises funds for the life-saving services offered by San Francisco AIDS Foundation and the Los Angeles LGBT Center.
This was it. This was what the past few years was leading me to. This was what my talent for endurance sport was preparing me for. I had spent the last few years selfishly competing not caring who was caught in the hairs of obsessing a number. Here was a chance for me to give back to something so much bigger than myself – a chance to give back to my community.
Now, I am obsessing over a different type of number. I'm setting out to raise $25,000 for the 2019 AIDS/LifeCycle Ride in June. I am riding as a supporter of those who are living, those who have passed, and those who do not yet know their AIDS or HIV status. Most importantly I am riding for those that I personally know who have been diagnosed with HIV.
As a young, confident, gay man who doesn't care anymore about who does or does not see me for who I truly am, I recognize that there are a lot of individuals that have sacrificed to pave the way for me.
Better, harder, faster, stronger is how I plan on taking this goal down, but this time I am not doing it alone. I am relying on a lot of friends, family, the LGBTQ+ community, my old Fleet Feet teammates, my new CÜR (Chicago Urban Riders) teammates, and FFC, to help me reach this goal. Fundraising is only half the battle, training for a 545-mile ride over six days is the other side of the coin I can't forget about.
If I have learned anything though this experience it's that sometimes you think you know where you are supposed to be, what you are meant to do, and who you are. Then you realize that everything you just went though was to prepare you for what's coming next. Everything will be alright in the end, and if things don't seem right, then it's not the end for you.
If you are inspired by my story and want to help me reach my goal of $25,000 for the AIDS/LifeCycle Ride please visit my personal donation page: http://www.tofighthiv.org/goto/IanLaBelle
Post written by and photos courtesy of FFC member Ian LaBelle.