As the year comes to an end, we begin to think about the last 12 months. We ask ourselves, 'Did I accomplish the things I said I would in January? Am I happier? Am I stronger? Have I grown as an individual?' Everyone wants to be better. We always want to find new ways to do more with less. People always ask me, what I'm working towards, and how I'm doing it.  Hopefully, this message will answer some of those questions. Regarding work life balance importance, I've put together a collection of my thoughts, the tools I use and ideas for how to implement them that I hope will be useful for you and help you find balance in multiple aspects of your life.
Giving Back
Fitness has always been a passion of mine and I was looking for ways to give back to the world. A great friend and mentor of mine (Antonio Coke) made a comment one day over lunch that stuck with me: "Life isn't about what you take from it, but what you can give back." Before I turned 30, I really had the mindset of taking what I could from the world. Some would refer this to "doing me." I work for large corporation out of Chicago as my day job, and truly enjoy what I do. But I could never quite shake the feeling that something was missing.
I'm a firm believer that life works in mysterious ways, and all it takes are small moments to make a big difference. In April of 2018, I was asked to lead a class at FFC to see how I would like it. The week I turned 30, I led my first class, and got a taste of fulfillment. The feeling of giving back to the world. I later proceeded to sign up for my ACE certification in Group Fitness and had 6 months to take the exam. Fast forward to the end of September, I took the exam and passed. I was legit. Where am I going with this?
Work Life Balance Importance
Finding balance is still one of the most difficult parts of my life, even today. From working out in the morning, working a 9 to 5, and teaching at night, I needed a plan. Friends and family ask me all the time, "How do you have time for everything?"
Through trial and error, I learned that the only way I was going to be able to handle everything was with a balanced workout and diet schedule. As we get ready for the new year, I'd like to give back by providing ideas and thoughts that I have implemented in my life to bring fulfillment.
So many times, we hear about people "wanting" to do something that makes them happy but that they're "too busy." For me, I have found that having a morning routine, nightly routine, structured diet, and focused workout schedule helps me function at maximum capacity. Integrating all 4 of these factors has helped me find balance within my daily life while giving back to others.
Please note – the purpose of this message is to answer the questions of those who have asked about what I do and how I do it. My process and ideas below are specific to my schedule, goals, and body type.
Factor #1: Nightly Routine
Before going over my morning routine, I thought it would be better to go over how I end my days in my nightly routine. I've learned the hard way that if I don't sleep the way I need to, my next day is derailed. I wake up every day at 4:00 am, and work best after seven true hours of sleep. I use the word "true"  because that is actual sleep.
I am an advocate for social media, but I push myself to not become dependent on it. Two factors that help me with that can be accessed as settings within the iPhone, and are now available with the iOS 12 update (check out this quick guide for how to set them up).
Downtime – I have my apps shut down from 8:00 PM – 4:30 AM

App Limits – I limit the amount of time I spend on Instagram (30 minutes), Facebook (15 minutes), and LinkedIn (15 minutes)
These settings help me by allowing my brain to wind down an hour before sleep. For the longest time, I found myself flicking my thumb along that screen until I was ready for bed. I've come to learn was that blue light and media were stimulating my brain, which delayed the time it took my brain to get to rapid eye movement (REM) sleep.
REM sleep is important for many reasons, but what I was wanting especially was the muscle recovery piece. Having my apps shut down at 8:00 PM also pushed me to read books and/or journal. This helped me with allowing my mind to get away from the day and/or let anything out onto paper. Now, if I'm reading, I'm typically out within 15 minutes around 8:45 PM.
Factor #2: Morning Routine
My morning routine is important to me because I am able to start the day by focusing on myself. My day job requires me to contact customers and partners all day with minimal downtime. While teaching class in the evenings, I am giving myself physically and mentally to each participant to ensure they're getting a workout they wouldn't get on their own. A 4:00 AM wakeup is out of the ordinary for most, but works well for me as I like to start my day with journaling and a workout. I use the app Sleep Cycle, which gradually wakes you up versus dramatically with the default Apple settings.
I get to the gym at 5:00 AM. I always start my day with a cardio session, which varies between kickboxing and running. Each workout is followed by a long shower then back home for my first meal. Once done, it's usually around 7:00 AM, and I am ready to head to the beautiful world of Corporate America. From the time I wake up to the time I get to work, I have already been awake for 3 hours and my body/mind is clear for the day.
Factor #3: Nutrition & Sample Diet Breakdown
Nutrition has been a key factor of success in sustaining morning workouts, evening workouts AND my day job. While working with FFC's dietitian, Alicia Huggler, I learned I wasn't eating enough to keep up with my workouts plus my resting metabolic rate. Now, I change my diet throughout the month as I change my workouts. Below is a breakout of what I eat on a monthly basis.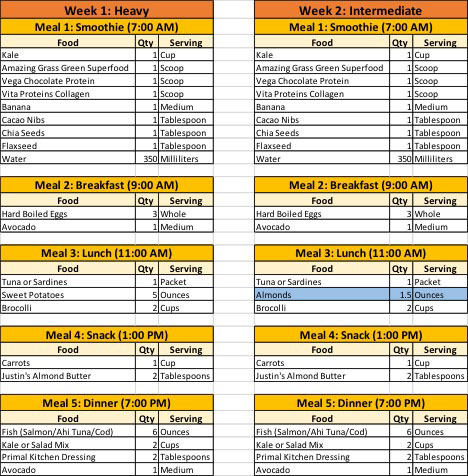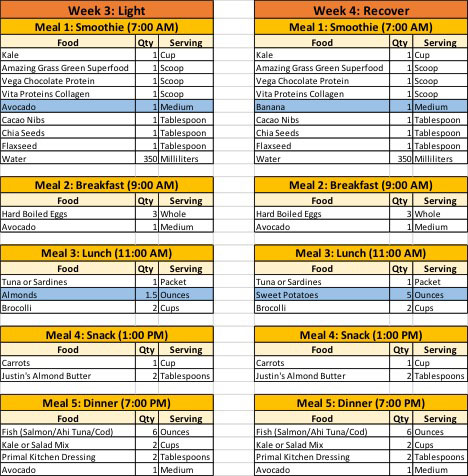 The first week of the month includes higher carb intake as I lift heavier. As the month goes on, I replace my carbohydrates with fats (which is highlighted in blue above). This resets each month as I reintroduce carbohydrates into my system. In working with Alicia, I learned many different things, such as to eat the skin of my sweet potatoes because they are a great source of fiber and nutrients.
Factor #4: Fitness & Sample Workout Breakdown
When it comes to my workout schedule, I do my best to mix things up with cardio, strength training, HIIT and circuit training. Below is an overview of the schedule along with descriptions of each focus and why I do them:
Cardio – I jump between kickboxing and running workouts, and do them in the morning, as they're a great way for me to wake up and start my day with something I enjoy.

Strength training – I lift weights twice a week (with a focus on "pushing and pulling") to ensure I'm retaining muscle mass while doing cardio on a daily basis. "Pushing" might include squats, shoulder press, lunges, chest press, etc. "Pulling" might include deadlifts, upright rows, rows, etc.

Week 1 (heavy strength training): 5-10 reps / set x 5

Week 2 (intermediate strength training) 10-15 reps / set x 5

Week 3 (light strength training) 15-20 reps / set x 5

Week 4 (recovery) 10-15 reps / set x 5

HIIT – I do evening HIIT workouts following strength training days, which allows me to increase my heart rate quickly while using weights, ropes or kettlebells.

Circuit training – I follow an hour-long run with circuit training a part of my Saturday morning routine because I'm following a rest day and need to wake up my entire body. I'm not looking to break records, more so integrate push, pull, and core exercises into one workout.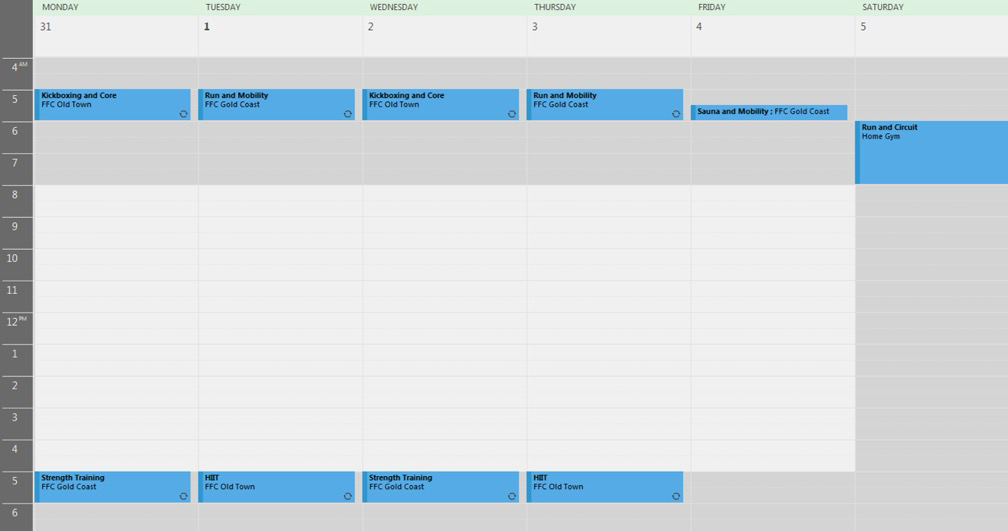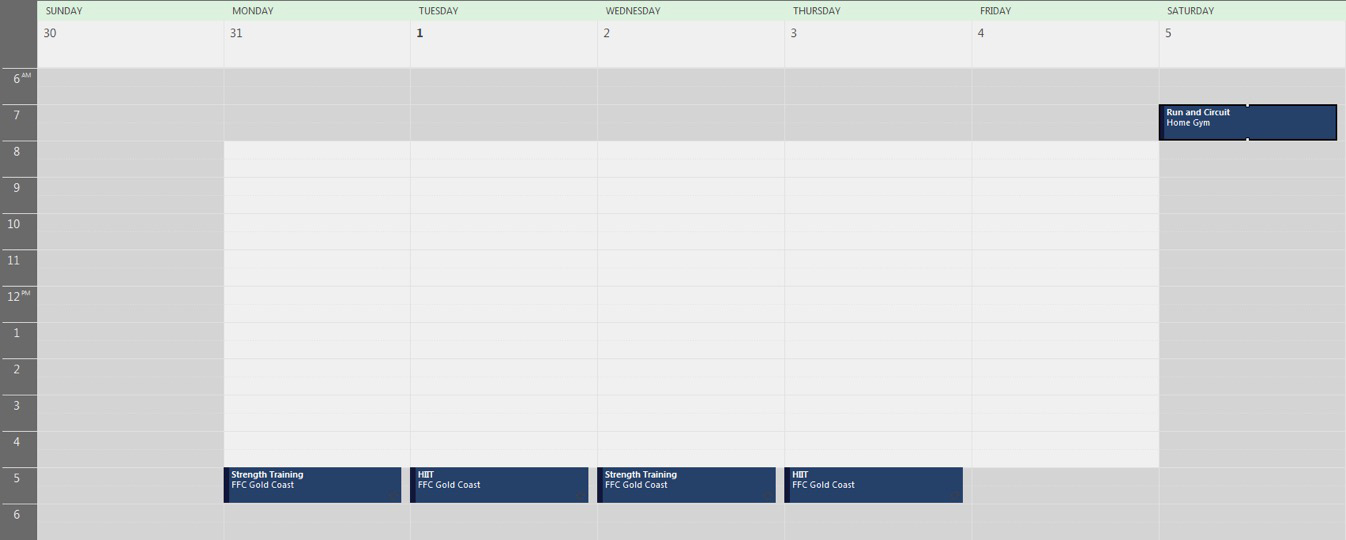 Weekly Workout Breakdown
I break up my schedule on weekly basis: weeks 1 – 3, heavy, intermediate, light; week 4, recovery. Some months have 5 weeks vs the typical 4; I extend week 3 (light strength training) into week 4 and perform the "light" schedule for 2 weeks.
In the screenshot above, you'll notice a "recovery" week, where I continue movement, but at a lower intensity. I do a single workout instead of two-a-days; in the morning I use the extra time to do light stretching and foam rolling to wake up.
When it comes to technique and proper form, I work with expert FFC trainer, Jeremy Gorden. His experience in personal training has helped me with building lean muscle mass, while staying an agile runner. I always recommend hiring someone to push you plus they'll see things you won't.
Summing It Up
As for final thoughts, I hope this message is received not as a manual of how to live your life but, as an example to pull from. Remember, this is what works for me and what I enjoy doing. If you could take one thing from this, and it impacts you in a positive way, this is a success. As you prep for 2019, take a second to think about something you've always wanted to do, and just go for it.
It doesn't matter if you're 30, 40, or 50, we all have the choice on how to live our lives. What you give back to the world is what you'll be remembered by when you're gone.
"The meaning of life is to find your gift. The purpose of life is to give it away." -William Shakespeare
Omar
Post written by FFC group fitness instructor Omar Romero.
About Omar
Omar is a fitness enthusiast based out of the Chicagoland area. As an FFC group fitness instructor, his focus is around functional fitness mixed with high intensity interval training. His personal philosophy is based on hard work and no excuses. You can see his other published pieces by clicking here!