There's a reason they call it happy hour – that time of day when you can unwind with friends or coworkers after a full day of productive work and forget the stress – or just relax a little bit.
And even in the fitness world, we know the importance of balance – it's okay to indulge once in a while!
What makes a good happy hour? Sure, the specials are great – but the ambience is important too! And since we're heading into cooler weather and shorter days, it's important to make every hour of happy hour (get it?) count, so proximity is of the utmost importance. Check out the 4 best happy hour spots in Chicago's Loop!
Boston Blackie's – 120 S Riverside
Your classic, laid back tavern, Boston Blackie's combines great American cuisine with a variety of drinks on tap. The combination of their draft beer selection with an expansive outdoor patio area creates a convenient spot to kick back and people watch after a long day at work.
For food, I highly recommend the "Boston Blackie's Famous Ribs", which is made with a homemade barbecue sauce that is so good I would sell my left shoe to get the recipe.
Little Toasted – 300 S Riverside Plaza
An upscale bakery, restaurant, and tavern, Little Toasted is a revolutionary concept in Chicago's Loop area. The spot serves up great food from morning to night, and pairs the selections with an extensive selection of beer, whiskey, and artisanal coffee beverages.
A sister-concept to the popular West Loop spot Slightly Toasted, this is a great place to grab a bite to eat before work or a refreshing beverage after a long day.
Related: healthy dining spots in Chicago's West Loop.
Jackson Tavern – 216 W Jackson Blvd
The most defining feature of Jackson Tavern is it's expansive 114-foot bar that seems to fade away into the horizon as you walk in the door. Wood paneling and dim, comfortable lighting make this a great place to pull up a stool and enjoy a craft beer with some affordable classic American pub food.
Whether you are looking to grab a bite to eat after work or catch the game on one of their many wall mounted TVs, Jackson Tavern is the place to be.
Franklin Tap – 325 S Franklin St
Franklin Tap is an urban tavern and craft beer bar located just seconds away from the Willis Tower, Union Station, and the Loop's financial district. This is a great spot to catch the game, hang out with friends, or grab lunch or an after-work brew.
In addition to their fantastic, made-from-scratch menu items, they offer a fun environment with great staff and one of the best rotating craft beer selections in Chicago's financial district. They also frequently host tastings and other exciting events and specials.

Post written by FFC Union Station Membership Team Representative Alex Berton.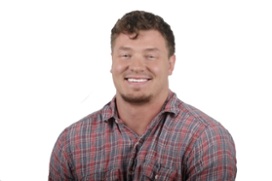 About Alex
Alex is a recent graduate of Butler University where he majored in exercise science. He joins the FFC Union Station team with a background in personal and group fitness training and was a member at FFC for the last ten years prior to his current position. Have questions, want more information on the club's programs and offerings, or to set up a complimentary tour or trial? Email him at aberton@ffc.com!