I recently joined the Fitness Formula Clubs team as a group fitness instructor at FFC Boystown. While walking into FFC for my audition prior to starting classes, a memory of how I began my journey to following a plant-based diet was sparked from when I first entered this industry.
15 years ago, after earning my AFAA certification, I dove head-first into the world of teaching. Some days would go from 6 AM until 10 PM, teaching 4 or 5 classes a day. I was teaching all kinds of formats, all over the city, working to supplement my unpaid passion for theatre and dance.
On top of the 20 hours a week I spent teaching classes, the hours of dance rehearsals for shows, and the personal training I'd do in between, a compulsion drove me to do more.
I would be on the elliptical machine for an hour before teaching a double, just to make sure I burned my magic calorie goal that day. I'd push myself to run 6 to 10 miles, even before the gym opened at 5 AM. I never took a day off.
Then, I got injured; plantar fasciitis in my heel and tendonitis in my knee. I was beating my body into the ground.
But I was also overweight. My obsessive workout routine was only to compensate for the food addiction binges I'd have. I could tear through 3 bowls of cereal and 2 "energy" bars before noon. I thought running two Chicago marathons and lifting 5 days a week would solve everything. My disappointment with my fat stomach and chubby legs had one solution: add more exercise.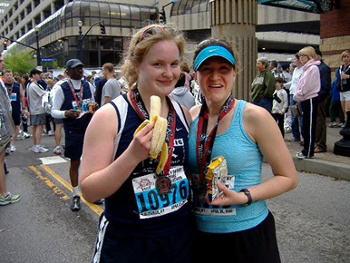 Time for a Lifestyle Change
It wasn't until I changed my diet that I started to lose weight and have more energy. My plant-based journey began with a "vegan challenge" – I'd eat plant-based and oil-free for 30 days.
I wasn't ready to make a full plant-based change after that first month. Yet I couldn't deny the effects it had on my body. I had lost weight, I was sleeping better, I didn't feel bloated, and I had more overall energy.
In the 6 years since that "challenge", I now fully embrace a plant-based diet. I've cut my addiction to refined sugar, oil, and flour. I've let go of dairy. I've discovered oats, beans, and red rice to be more flavorful and satisfying than poached eggs or roasted chicken breast.
In the 15 years since I first entered the fitness industry, I'm now 50 pounds lighter, lifting heavier weights than ever. I can cruise at an 8:00/mile pace for a 10K, and I've learned how to balance my high-intensity interval training with slow, mindful yoga.
The Benefits of a Plant-Based Diet
Eating plant-based, my body has been able to reset itself – feeling satisfied and nourished with a healthy amount of fiber, complex carbohydrates, protein, and healthy fats. I still crave carbs when I need more energy, but now I hunger for bananas and grapes over energy bars.
Related: ever thought about adding seaweed to your diet? Here's why you should!
I thirst for watermelon to re-hydrate after a 90-degree 7-mile run. I dive into a bowl of lentils after heavy strength workouts. My recovery meals are full of delicious plant-based energy. I have let go of the refined flours, oils, and sugars – also letting go of my addiction to these foods. I feel like such a different body, with such a different emotional mind.
I feel joyful and lucky that fitness has always been a part of my life. I am equally grateful to have discovered the drastic impact a plant-based diet has had on my body. I look forward to sharing my passion for fitness with the FFC family. And I welcome any skeptics of a vegan diet to take my classes and see how strong plants can be!
Post written by FFC Boystown Group Fitness Instructor Katie Simmons.
Related: want to try a nutrition session at FFC for free? Click here!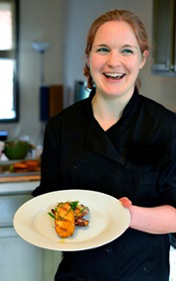 About Katie Simmons
Katie is a group fitness instructor at FFC Halsted Street and a personal chef based in Chicago. When she's not teaching, she specializes in creating delicious, healthy recipes for those with special dietary concerns like gluten-free, oil-free, plant-based, and low-residue. You can see more at www.plants-rule.com.
Outside of the kitchen, she is a fitness instructor, with over 15 years of experience in the industry. For fun, she loves to travel. Some of her favorite trips include week of Holi Festival and Curry in Northern India, 4 nights hiking and camping on the Incan Trail in Peru, 10 days of trekking in the Patagonia of Argentina and Chile, and 5 months backpacking through New Zealand.