When it comes to eating lunch in Chicago, there is NO shortage of options. Trust us. But like the saying goes, moderation is key – we can't always be indulging.
On the flipside, though, we know it can sometimes be tough to eat nutritiously, but also feel full. Being physically and mentally satiated starts with the types of food we put into our bodies.
We've rounded up the 3 best healthy AND delicious lunch spots in Boystown that offer well-priced options with fantastic service that will appeal to a wide audience. Check them out and let us know how you like them!
11 Degree North – 824 W. Belmont Ave
Not only is 11 Degree North perfect for your morning pick-me-up, this café has several different grab and go or sit and eat options to excite your taste buds ranging from gluten-free flat bread "arepas" and biscuits and bagels stuffed with all types of protein-rich options to sandwiches and smoothies.
My personal favorite? The Caribbean Chicken Sandwich – it comes with grilled chicken, cheese, bacon, pineapple and avocado served on a pretzel bun. Okay, so it might not be the healthiest option, but it'll be sure to brighten things up on a cold, windy Chicago afternoon!
Related: the best weekend brunch spots in Lakeview.
Azteca Grill – 847 W. Belmont Ave
This is your one-stop shop for all your taco and burrito needs. (And late-night snacks!) The menu offers a wide selection that is sure to please almost any palate. The Azteca De Oro is my go-to order; this burrito comes with a choice of ground beef, chicken, pork "pastor", pork carnitas or fajita veggies, rice, black beans, cheddar-jack cheese, guacamole, sour cream and Pico de Gallo. The protein-heavy yet light fillings will keep you energized all day long!
Chicago Diner – 3411 N. Halsted St.
Think "old-school" diner but with a "new-school" menu. Opened in 1983, the Chicago Diner specializes in creative vegetarian and vegan options that are sure to take you outside your comfort zone. Like we said, though, balance is key – go for the healthy options but stay for the dessert! Their pies and cakes are sure to impress.

Post written by FFC membership representative Kyle Souther-Bruno.
About Kyle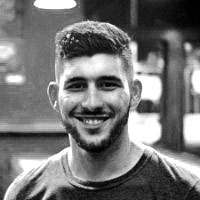 Kyle recently moved up to Chicago from Austin, Texas. He joins the FFC Boystown team with a background in digital marketing, VIP event planning and was a VIP event planning consultant for four years before his current position with FFC! To set up a complimentary VIP member experience at FFC, email Kyle at ksoutherbruno@ffc.com!
Try Out FFC! 
Stop in to try FFC for free – click right here to redeem!