FFC-exclusive group fitness instructor and trainer Austin Head shares a simple 15-minute bodyweight workout for when you're on the go. Needing no additional equipment (just yourself!), this hotel room workout will ensure you'll be able to stay on track, even if you're pressed for time.
I hear it all the time: 'Austin, I just don't have time to work out; my schedule is too crazy!' Or, 'I'm traveling for work for the full week ahead… what do I do?' As a group fitness instructor and personal trainer, I hear all kinds of reasons why my clients can't work out, but time and travel-related commitments are the top reasons.
What if I said you can efficiently burn calories, elevate your mood and CRUSH a workout, all in 15 minutes? Sounds too good to be true, right? Wrong! I've put together a hotel room workout/bodyweight workout with 5 different total-body exercises that you can use literally anywhere.
How to Do This Hotel Room Workout
Perform each exercise for 50 seconds, with a 10-second recovery period in between.
Once you've completed all 5 exercises, repeat the cycle for a total of 3 rounds, trying to complete the circuit in 15 minutes.
Boom – you're done! Enjoy the feeling of accomplishment.
Bodyweight Workout Exercises
Squat + Rotation
I love starting my classes off with this move, because it's a great full-body move. Not only do you work your lower body, you also start to warm up the core (and the rotation helps too).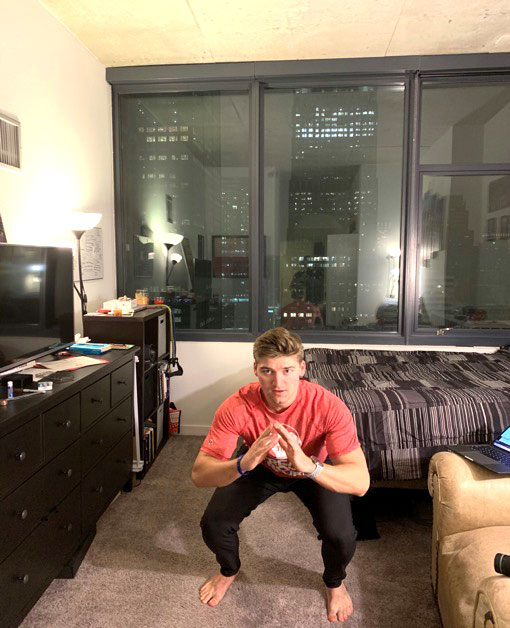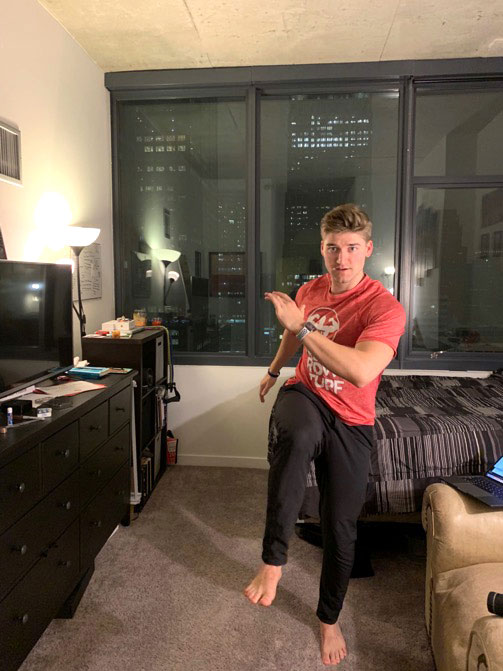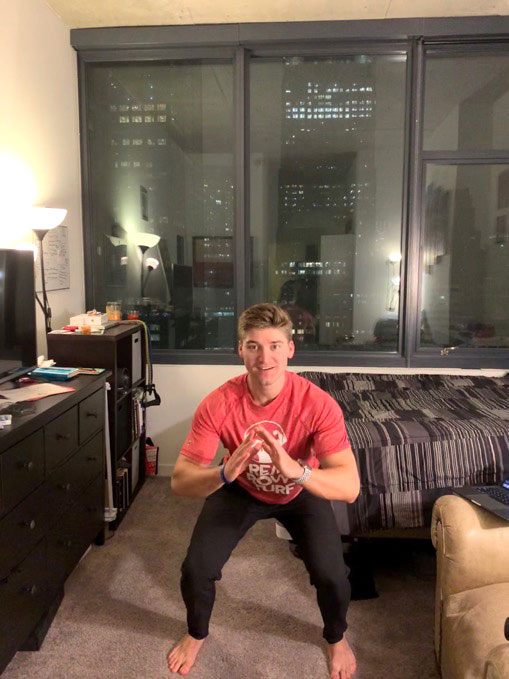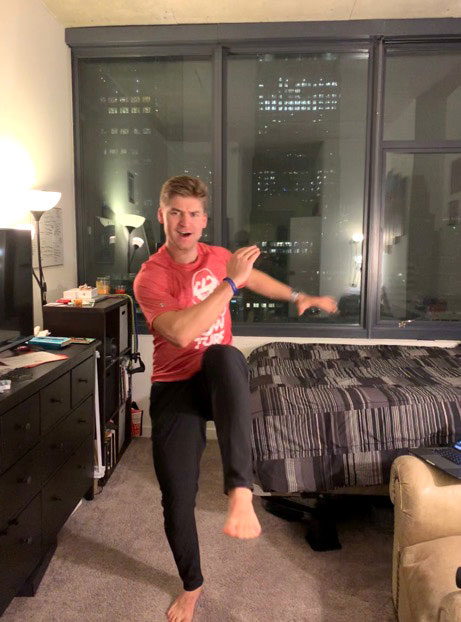 2 Reverse Lunges + 2 Squat Jacks
Be warned that the heart rate will start to elevate with this one! If you want to progress this move and make it a little more plyometric, repeat as 2 lunge explosions and 2 squat jumps for the 50-second round instead.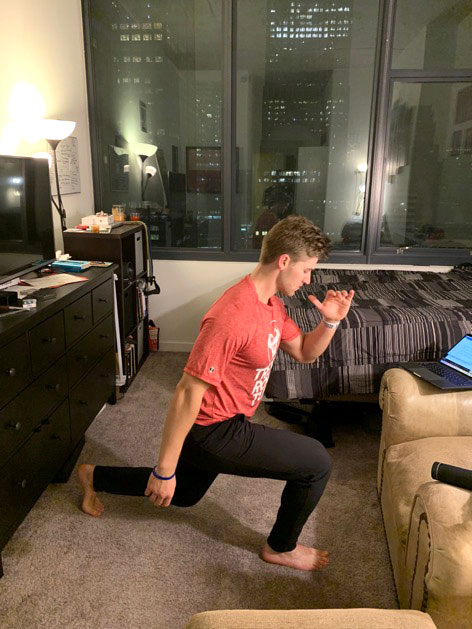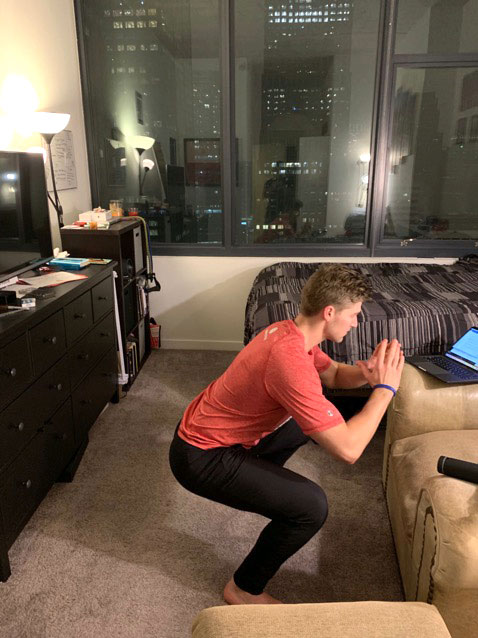 1 Push-Up + 2 Mountain Climbers
I'm just evil… 2 exercises back to back to elevate your heart rate? You'll thank me later! The key to this move is to keep your elbows at 45 degrees to your side.
Related: airport food can be the WORST. Here are some easy ways to navigate airport food when you're traveling!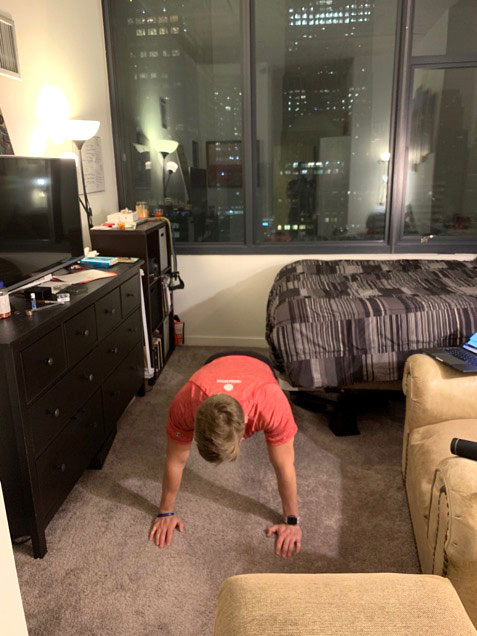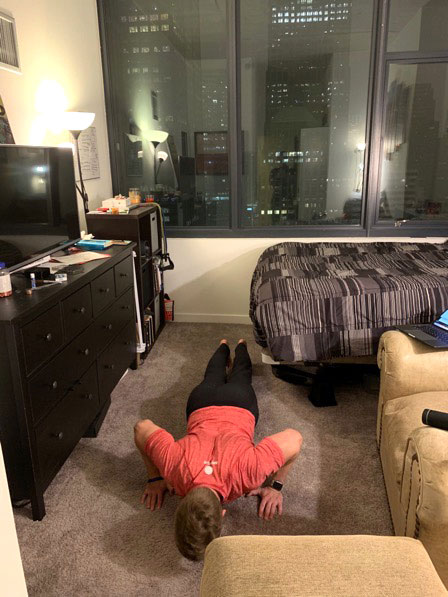 Bicycle Abs
Don't forget to drive your elbows to the opposite knees on this one!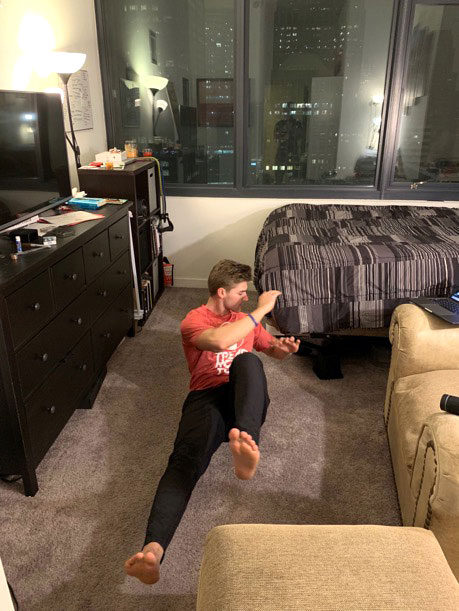 Freestyle Burpees
Burpees… everyone's favorite exercise! Right?! There are so many different forms of burpees; have fun with them! Add 2 glute kickbacks at the bottom. Add a push-up. Add a tuck jump. Maybe even a cartwheel! Okay, okay, I might have gotten carried away suggesting that one. But you get it – be CREATIVE!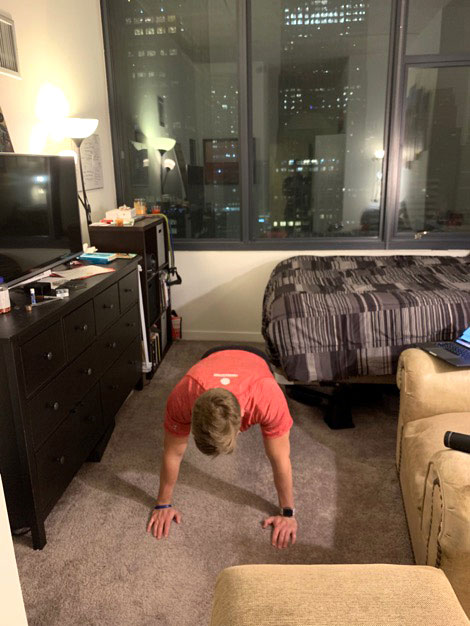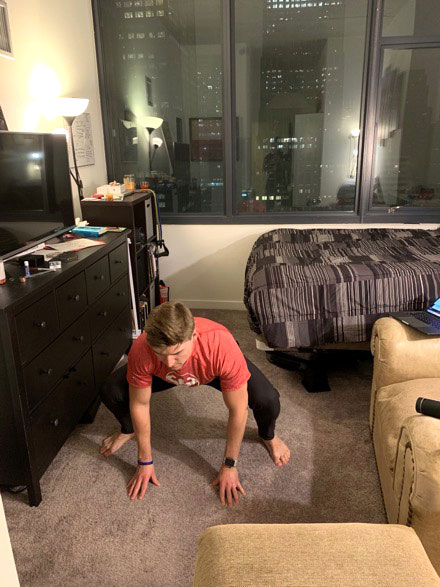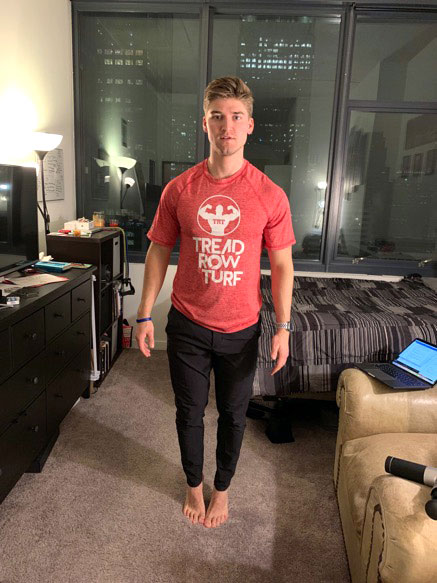 So as you can see, exercising doesn't have to involve heavy weights, or even a gym, for that matter. It can be as easy as doing a bodyweight workout in a small space. Or this simple hotel room workout! On one of those days where you say 'I just can't fit my workout in my schedule today', rethink your perspective and try this simple 15-minute rotation instead. Make it a great day! Tried the workout or plan to on your next trip? Tag me and FFC on Instagram! @Austin_Head / @ffc_chicago.
Post written by FFC group fitness instructor and personal trainer Austin Head.
About Austin
Austin Head is an FFC-exclusive group fitness instructor, personal trainer and creator of the TRT boot camp at FFC Union Station. Recently, Austin represented FFC on WGN's Living Healthy Chicago – you can see his interview about the benefits of bodyweight exercises with Jane Monzures here. Have questions for Austin? Email him at ahead@ffc.com!