If you want to try baking bread, this easy vegan bread recipe is a great place to start! This Irish brown bread doesn't require any yeast so you don't have to wait around to bake it. Traditionally using white flour, this healthy, vegan version uses whole grain oat flour for a slightly nutty flavor. Include this in your weekly meal prep so that you're ready for the week ahead. Use slices of this as a base for avocado toast. Fill with hummus, sliced cucumbers, and tomatoes for a healthy lunch. Or tear off a piece to sop up the broth from a hearty (or light!) soup (like this healthy mushroom soup) at dinner!
Level: easy
Servings: 12
Ready In: 70 minutes
Ingredients
1 ¼ cup + 2 tablespoons plain, unsweetened almond milk (11 oz) *
2 tablespoons white vinegar (1 oz)
1 tablespoon ground flax meal (6.5g)
3 tablespoons warm water (1.5 oz
3 cups whole wheat pastry flour (360g)
1 cup oat flour (120g)
1 teaspoon baking soda
1 teaspoon salt
Directions
Preheat the oven to 375F. Line an 9×5-inch loaf pan with parchment.
Make the vegan buttermilk: combine the almond milk with the vinegar in a small bowl. Set aside for 5-10 minutes, to let the almond milk curdle slightly.
Make the vegan flax "egg": combine the ground flax meal and warm water in a small dish. Set aside for 5-10 minutes, until gooey and "egg-like".
To make the bread: In a large bowl, whisk together the whole wheat flour, oat flour, baking soda, and salt. Add the flax "egg" to the bowl with the vegan buttermilk and whisk to combine. Add this wet mixture into the bowl with the flour. Use a wooden spoon to stir together, just until you have a rough dough.Transfer this dough to a lightly-floured wood surface. Knead for a bit, just until the dough comes together to a smooth, cohesive mixture. Transfer to the parchment-lined loaf pan and use your hands to form into a loaf.
Bake for about 50 minutes, until the bread has risen about ½ inch. You'll know it's ready if you take it out of the pan and knock on the bottom – it should sound hollow. Let cool at least 10 minutes before slicing.
Related: cookies before (or after) a workout? YES: check out these peanut butter cookies with quinoa!
Chef Tips:
Bread storage tip: the best way to store bread is tightly wrapped in foil, then sealed in a plastic bag, in the freezer. You want to eliminate as much air and moisture as possible, as these cause both mold and stale bread.
Oat flour and gluten: Oat flour is naturally gluten-free and has a nutty flavor with light texture. It can be used as a replacement for white flour for a gluten free, vegan bread recipe like this one, or in much of your other vegan baking. Just be sure to substitute by weight, not by volume. A small, digital scale can help with this.
Sift the dry ingredients: It's always important to sift together the dry ingredients for a lighter, fluffier batter. This is even more important, though, when working with whole wheat flour. If you don't have a sifter, use a whisk to combine the dry ingredients and add some air into the flour mix.
Yield: one (9×5-inch) loaf
Post written by FFC group fitness instructor Katie Simmons.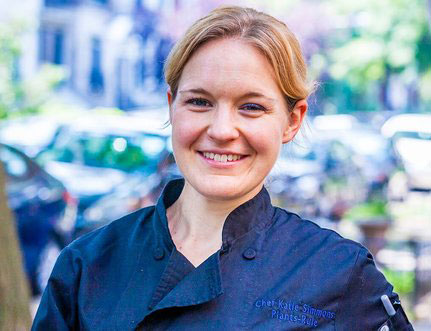 More about Katie: Katie is a group fitness instructor at FFC and is also a personal chef based in Chicago. She specializes in creating delicious, healthy recipes for those with special dietary concerns like gluten-free, oil-free, plant-based, and low-residue. You can see more at www.plants-rule.com. You can also see more recipes at www.facebook.com/plants-rule and follow her on Instagram at @chefkatiesimmons.
Nutrition Facts
Serving size: 1/12 of a recipe (about 1 slice).
Amount Per Serving
Calories 137.33
Calories From Fat (11%) 14.45
% Daily Value
Total Fat 1.65g 3%
Saturated Fat 0.28g 1%
Cholesterol 0mg 0%
Sodium 319.06mg 13%
Potassium 172.01mg 5%
Total Carbohydrates 28.12g 9%
Fiber 4.95g 20%
Sugar 0.32g
Protein 4.1g 8%
Calcium 0.65mg <1%
Iron 34.94mg 194%
Vitamin A IU
Vitamin C 0mg 0%