Looking for Cinco de Mayo party ideas? Look no further! Traditional Shepherd's Pie gets a Mexican twist with this spicy vegan recipe. A hearty filling of black beans and corn will give you healthy protein and complex carbs – essential nutrients for fueling your workouts. Sweet potatoes are mashed with chipotle powder for a sweet-smoky crust that is loaded with flavor and antioxidants. This gives whole new meaning to comfort food.
Level: medium
Servings: 4
Ready in: 60 minutes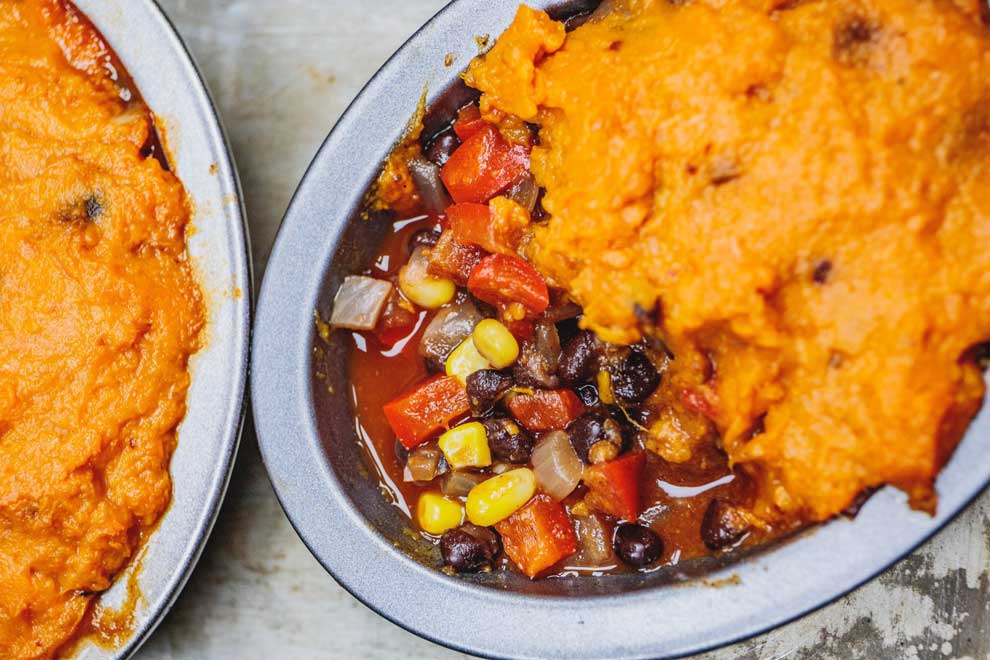 Ingredients
For the smoky sweet potato crust:
3 medium sweet potatoes, peeled and cut into chunks
½ cup unsweetened plain almond milk
½ teaspoon ground chipotle chili
Salt, to taste
For the Mexican black bean corn filling:
1 bell pepper, diced
1 red onion, diced
2 cloves garlic, minced
1 teaspoon ground sweet paprika
1 teaspoon ground cumin
½ teaspoon ground coriander
2 tablespoons tomato paste
½ cup water
1 (15-ounce) can black beans, drained and rinsed
½ cup frozen corn kernels, thawed
Related: want more Cinco de Mayo party ideas?! Check out this recipe for vegan 'new-tella' – add some chili powder for a spicy Mexican twist!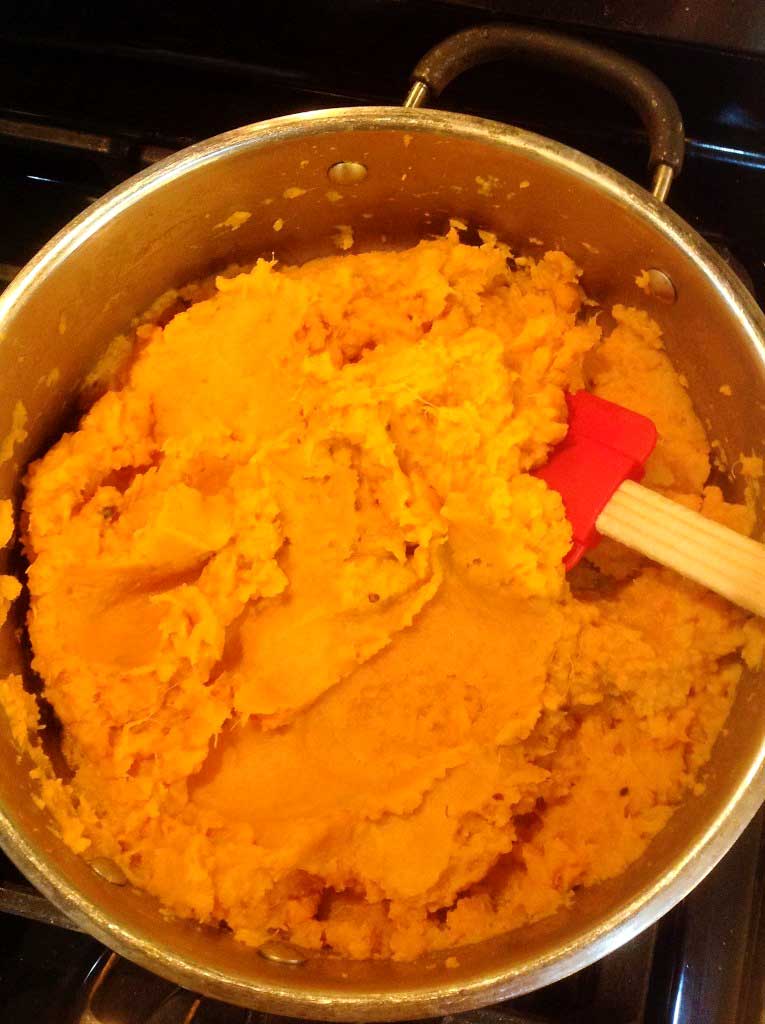 Directions
Preheat your oven to 375°F.
To make the smoky sweet potato crust:
Place the sweet potatoes in a small pot. Cover with water. Place a lid on the pot, bring to a boil, and reduce to a simmer. Simmer until the potatoes are tender.
When the sweet potatoes are tender, drain them well, shaking off any excess water. Return the potatoes to the small pot.
Add the ground chipotle and use a potato masher to mash. Add enough almond milk to reach a creamy constancy. You want something a little thicker than mashed potatoes. Taste and adjust seasoning with salt. Set aside until ready to assemble pies.
While the sweet potatoes are boiling, make the filling for your Tartas Pastores.
To make the Mexican black bean corn filling:
Heat a medium sauté pan over medium-high heat. Add the bell pepper and onion. Sauté until they start to brown, 5 to 7 minutes.
Add the garlic, paprika, cumin, and coriander. Sauté 1 minute, until aromatic. Add the tomato paste and cook 1-2 minutes, just until the tomato paste darkens to a brick red color.
Add the water. Use a wooden spoon to scrape up any bits from the bottom of the pan. Add the black beans and corn. Stir well to combine. Taste to adjust seasoning.
To assemble and bake your Tartas Pastores:
Evenly divide the Mexican black bean corn filling among 4 individual pie tins. Top each pie with ¼ of the smoky sweet potato crust topping. You don't want to overfill your pies, so you may have extras of the filling and/or crust. Place the pie tins on a baking sheet. Bake at 375F for 30 minutes, until golden brown on top. Let cool 5 minutes before serving.
Yield: 4 individual pans (or one 8-inch full-sized pan)
Chef Katie's Tips:
Save on Spices: If you want to save cabinet space, you can substitute a store-bought Mexican or taco spice mix. Look for a salt-free or no-sodium blend. Use 2 1/2 teaspoons, in place of the paprika, cumin, and coriander.
Kid-Friendly Spice Control: For a kid-friendly version (or simply Cinco de Mayo party ideas that won't leave your friends fiery), dried chipotle is made from smoking poblano peppers. It usually comes either in flakes or ground, and you can use either in this recipe. It has a spicy kick. If you want less spice substitute with chili powder or smoked paprika.
Deconstructed Version: You can turn these pies inside-out with a faster version. Instead of assembling the filling and crust, simply serve the Mexican black bean mixture over the smoky sweet potatoes. For a bowl version, serve on top baby spinach and top with tomatillo guacamole.
Yield: 4 individual pans (or one 8-inch full-sized pan)
Post written and all photography provided by FFC group fitness instructor Katie Simmons.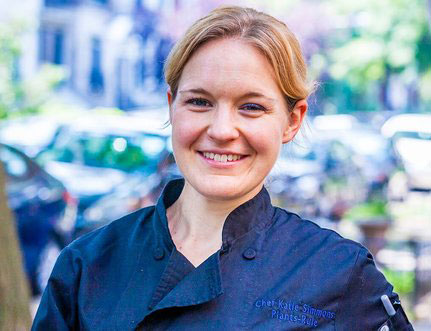 More about Katie: Katie is a group fitness instructor at FFC and is also a personal chef based in Chicago. She specializes in creating delicious, healthy recipes for those with special dietary concerns like gluten-free, oil-free, plant-based, and low-residue. You can see more at www.plants-rule.com. You can also see more recipes at www.facebook.com/plants-rule and follow her on Instagram at @chefkatiesimmons.
Nutrition Facts
Servings 4.0
Amount Per Serving
Calories 195
% Daily Value *
Total Fat 2 g 3 %
Saturated Fat 0 g 0 %
Monounsaturated Fat 0 g
Polyunsaturated Fat 1 g
Trans Fat 0 g
Cholesterol 0 mg 0 %
Sodium 247 mg 10 %
Potassium 899 mg 26 %
Total Carbohydrate 47 g 16 %
Dietary Fiber 12 g 48 %
Sugars 9 g
Protein 10 g 19 %
Vitamin A 290 %
Vitamin C 119 %
Calcium 10 %
Iron 23 %
* The Percent Daily Values are based on a 2,000 calorie diet, so your values may change depending on your calorie needs. The values here may not be 100% accurate because the recipes have not been professionally evaluated nor have they been evaluated by the U.S. FDA.