When it comes to getting healthy, eating out can sabotage our efforts. Whether it's takeout, delivery, or even a fancy restaurant, much of the food prepared in these establishments tends to be heavy in salt and fat. After all, the goal of any place selling food is to satisfy customers with delicious flavor. As customers, it's natural that we like rich, fatty foods. Chefs tend to rely on salt, sugar, fat and dairy to make dishes more delicious – and that can show up around your waistline. On top of that, excuses for relying on eating out often are plentiful: lack of time, lack of energy, lack of cooking ability. My nutritious 5-minute Asian noodle bowl recipe is here to change that.
This quick, healthy dish is ready in just minutes. It uses a few key ingredients that you can always keep stocked in your pantry and freezer for easy access. Healthy buckwheat soba noodles and plant-based protein from edamame will leave you feeling satisfied and fueled for your next workout. Jazz it up with shredded cabbage, baby spinach, or sliced bell pepper. This noodle-bowl will "take-out" your excuses for "takeout"!
Related: sign up for a free 30-minute nutrition consultation with an on-site registered dietitian at FFC – click here!
5 Minute Asian Noodle Bowl
Level: easy
Servings: 1
Ready in: 5 minutes
Ingredients
Quick Asian Peanut Sauce:
2 tbs peanut butter
1 tbs rice vinegar
1/2 tsp lime juice
1 tbs ginger, grated or minced
1 tbs orange juice (or pineapple juice)
1/8 tsp red chili flake
1/2 tsp tamari or soy sauce
Noodle Bowl:
1 (2 oz) bundle Soba noodles
1/2 cup bean sprouts
1/4 cup shelled edamame
Related: need a quick boost of energy? Check out these nostalgic, yet adult-worthy PB & J Oat Bites!
Directions
Make the noodles. You can bring a pot of water to a boil. (This may add a few extra minutes, but will still be pretty fast).
Add the Soba noodles to boiling water.
Make the Quick Asian Peanut Sauce. In a large bowl, combine the peanut butter, rice vinegar, lime, red chili, tamari, and orange juice.
After the noodles cook for about 2 minutes, add the bean sprouts and edamame. Cook 1 more minute, until hot.
Drain noodle mixture. Toss with the Quick Asian Peanut Sauce and serve.
Chef's Tip: Use an empty peanut butter jar to make a big batch of the Quick Asian Peanut Sauce. You can then whip up this bowl in even less time, or use it as a dressing for salad, a dip for veggies, or even poured over roasted sweet potatoes.
Nutrition Facts
Amount Per Serving (1 recipe)
Calories 445.44
Calories from Fat (34%) 152.39
% Daily Value
Total Fat 18.22g 28%
Saturated Fat 3.51g 18%
Cholesterol 0mg 0%
Sodium 773.95mg 32%
Potassium 744.9mg 21%
Total Carbohydrates 63.84g 21%
Fiber 4.47g 18%
Sugar 7.35g
Protein 21.43g 43%
Calcium 24.96mg 2%
Iron 62.53mg 347%
Vitamin A 43.18IU <1%
Vitamin C 0mg 0%
Post written by FFC Boystown Group Fitness Instructor Katie Simmons.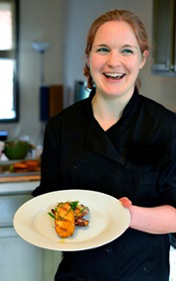 About Katie
Katie is a group fitness instructor at FFC Boystown, and is also a personal chef based in Chicago. She specializes in creating delicious, healthy recipes for those with special dietary concerns like gluten-free, oil-free, plant-based, and low-residue. You can see more at www.plants-rule.com.