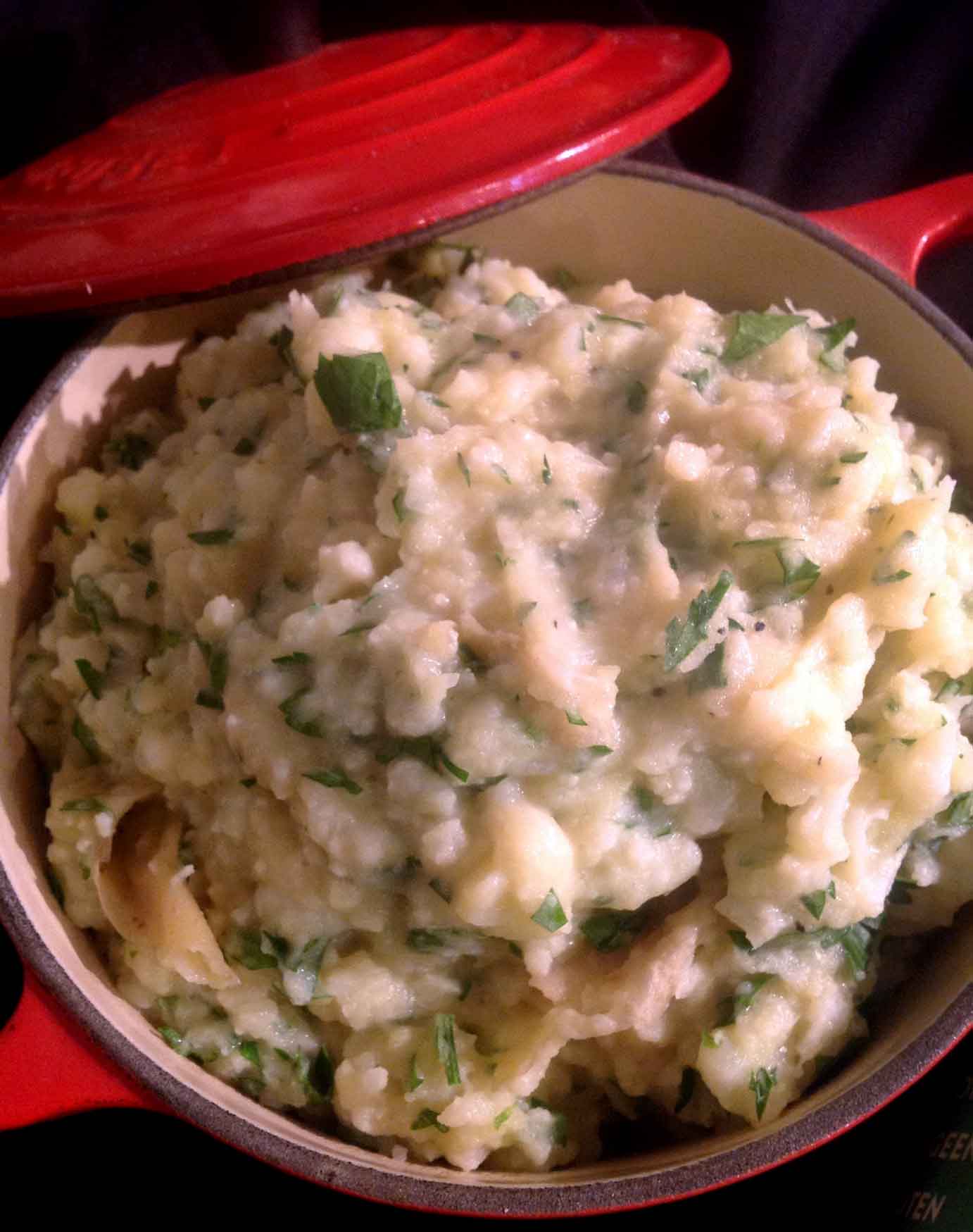 With all its versatility and nutritional benefit, it's easy to see why cauliflower has become such a popular ingredient in some of our favorite comfort foods. It's become the go-to substitute for cutting calories in everything from rice to pizza, even! If you haven't hopped on the cauliflower train yet, I suggest you start with this easy cauliflower mash recipe.
This is a nearly fool-proof way to introduce more healthy veggies into your diet using a classic comfort-food recipe (mashed potatoes) that you already love. Cauliflower is rich in healthy fiber, vitamin C and powerful cancer-fighting antioxidants.
No special equipment is required – just a pot of boiling water and a potato masher! A few key ingredients (almond milk and nutritional yeast) keep this 100% vegan. You can also swap out for a traditional dairy milk and even parmesan cheese – especially if you're still trying to win over finicky eaters.
Use it as the perfect complement to grilled veggies or chicken, or as a heartier option to balance out warm weather salads and other dishes!
Related: speaking of substitutions in things we love, have you see this 'New-tella' recipe with dates?
Herb Cauliflower Mash with Yukon Potatoes
Level: easy
Servings: 8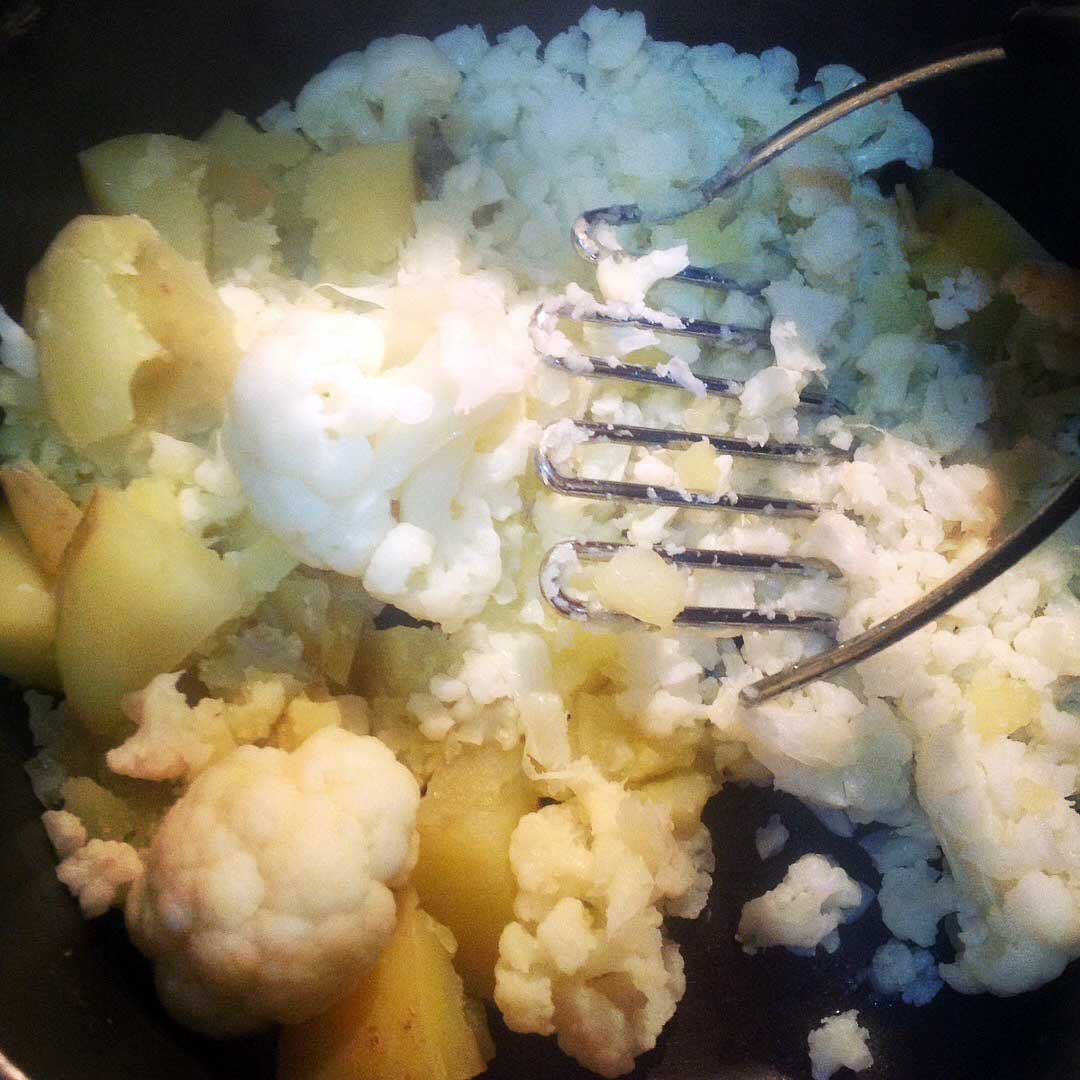 Ingredients
1 big head cauliflower (about 3-4 cups florets)
2 medium Yukon Gold potatoes (about 1 pound)
1 cup almond milk, plain, unsweetened
2 tbsp. nutritional yeast
1/4 cup chopped fresh parsley
1/4 tsp. salt
1/8 tsp. black pepper
Instructions
To cook potatoes and cauliflower:
Clean the cauliflower and scrub the potatoes.
Trim the cauliflower.
Cut both the cauliflower and potato into large pieces.
Place in a large pot and cover with water.
Cover, bring to a boil, and reduce to a simmer.
Cook until potatoes are tender, about 10 minutes.
Potatoes are ready when a knife can easily be inserted and the potato slides off.
To make mash:
Chop the parsley.
When potatoes are done, drain the potatoes and cauliflower.
Immediately return the potatoes and cauliflower to the same hot pot and let any excess water steam off.
Add the remaining ingredients: milk of choice, nutritional yeast, salt, pepper, and parsley.
Use a potato masher and mash away. Season to taste with salt and pepper. Enjoy!
If you prefer a creamier potato, use a hand mixer.
Chef's tip: Yukon Gold potatoes are a thin-skinned potato, which means you don't have to peel them. You can also use butterball potatoes, or, for a little color, red-skinned potatoes.
Yield: 7-8 cups
Post written by FFC Boystown group fitness instructor Katie Simmons.
More about Katie: Katie is a group fitness instructor at FFC Boystown and is also a personal chef based in Chicago. She specializes in creating delicious, healthy recipes for those with special dietary concerns like gluten-free, oil-free, plant-based, and low-residue. You can see more at www.plants-rule.com.