"Don't try to drive on an empty tank of gas." This essential advice is something I remind my FFC members of all the time. When I teach Motiv8 at 6 AM, I'm pushing you to dig deep and give 100% in your workout. In order to get stronger, you have to train hard. You have to push your body through discomfort. How can you expect to do that on an empty stomach? Whether you're training first thing in the morning, or right after work, it's crucial to fuel up pre-workout. Running on an empty tank of gas will leave you tired and can increase your likelihood for injury. What you fuel up with is just as important to give you sustained energy. Check out this insanely easy recipe for peanut butter and jelly oat bites – one of my favorite go-to pre-workout snacks.
The classic combination of PB & J takes us all back to the memories of childhood (but dried currants and all-natural ingredients keep the recipe mature enough for adults). I throw just a few ingredients into my food processor and roll up a batch. Not only are these great pre-workout snacks that are gluten-free, vegan options, they're also 100% plant-based and have tons of nutritional benefits!
Some of these benefits include:
Whole grain oats are naturally gluten-free, providing vegan protein and fiber for long-term energy.
Natural roasted peanut butter adds some fat to give you long-lasting satiety.
Dried currants provide natural sweetness for an energy boost that won't leave you dragging in an hour.
A dash of cinnamon does double-duty, providing interesting flavor and acts as an anti-inflammatory food (read more about controlling inflammatory foods here!)
One of the best parts? I'll make a batch of these and keep them in the freezer – and any time I might need a quick energy bite, (or some pre-workout snacks) I throw a few in my bag! They work in the morning before I teach class, in the afternoon when I am craving something sweet, and even on long trips when I'm stuck in an airport. I even make them as a personal chef for my clients who pack them in their kids' lunch boxes!
Related: want to set up a free 30-minute nutrition consultation with one of our on-site registered dietitians? Click here!
Try This Recipe: PB & J Oat Bite Pre-Workout Snacks
Level: easy
Servings 10 – yields 20 "bites"
Ready in: 10 minutes
Ingredients
1 1/2 cup rolled oats (use gluten-free oats for 100% gluten-free treats)
1/2 cup creamy peanut butter (preferably with no added sugars or oils)
1 1/4 cup dried Zante currants
1 tsp vanilla extract
1 tsp cinnamon
1/2 tsp salt (or adjust, depending on salt in peanut butter)
2 – 4 tbsp warm water
Related: speaking of energy – check out this easy peasy 5 minute Asian noodle bowl for the next time you're craving take-out!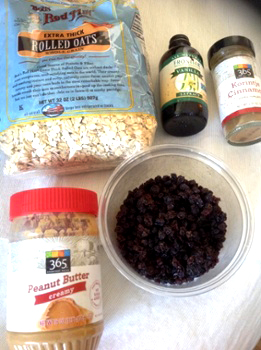 Directions
Gather ingredients. Place the oats in your food processor. Puree oats until well-chopped, resembling shredded coconut. Remove from food processor and pour into a medium bowl.
Add the peanut butter, currants, vanilla, cinnamon, and salt to the food processor. Puree peanut butter mixture until currants are chopped and everything is well-combined.
Add shredded oats back to the food processor. Puree. Add 2-4 tablespoons warm water, until mixture binds together. Continue to puree until mixture naturally clumps into a large ball. Add a tablespoon of water at a time until this consistency is reached.
Remove mixture from the food processor into a medium bowl. Roll about 1 tablespoon of batter into a two-bite ball. Repeat with remaining mixture.
Keep refrigerated for up to 1 week or freeze for longer.
Chef's Tip: for a peanut-free alternative, try it with almond butter or sunflower seed butter. These are perfect fuel for traveling through airports or training for marathons! Want to see a step-by-step? Check out the full preparation video here!
Nutrition Info
Serving size: 1/10 of a recipe (about 2 bites).
Amount Per Serving
Calories 219.71
Calories From Fat (31%) 68.31
% Daily Value
Total Fat 8.17g 13%
Saturated Fat 1.65g 8%
Cholesterol 0mg 0%
Sodium 177.46mg 7%
Potassium 346.45mg 10%
Total Carbohydrates 31.63g 11%
Fiber 4.62g 18%
Sugar 13.36g
Protein 7.93g 16%
Calcium 0.86mg <1%
Iron 36.39mg 202%
Vitamin A 13.91IU <1%
Vitamin C 0.04mg <1%
Post written by FFC Boystown group fitness instructor Katie Simmons.
More about Katie: Katie is a group fitness instructor at FFC Boystown and is also a personal chef based in Chicago. She specializes in creating delicious, healthy recipes for those with special dietary concerns like gluten-free, oil-free, plant-based, and low-residue. You can see more at www.plants-rule.com.