How many of you walk into a Fitness Formula Club to meet with a trainer? One. Three. Five. Okay, let's cut to the chase. There are a handful of members who seek out a personal trainer when they join a Fitness Formula Club. Every member has their own story, and a specific purpose for being in the gym.
When you are paired up with an FFC trainer, a consultation is set. This initial consultation is catered to meet the demands of the client. An assessment is done of their current physical fitness performance, goals for the future, and steps to take to reach those goals. FFC trainers are coached to develop a relationship with their clients. Obvious, right? Who wants to work with a trainer who is not personable, and helpful? Nobody. A trainer is present to walk the client through exercises, listen to their pain points, and even lend an ear to whatever may be going on in their life.
Now think about this: how often might you ask your trainer questions about their lives? More than the common "How's your day going?" or "Where did you go to school?".
Fitness Formula Clubs does a great job in showcasing trainers at each location by featuring their photos with a list of certifications and areas of specialty. To take that one step further, I decided to run around FFC Park Ridge with new trainer, Mike Meyers, to learn about his purpose for training.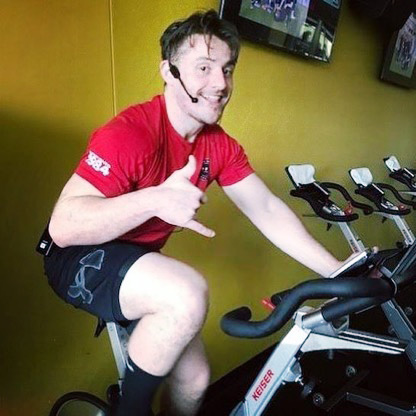 Beginning with the company as a fitness specialist, Mike recently moved into the position of full-time trainer. Previously, he had been teaching yoga with Core Power, but traded his yoga mat for a spin bike.
Related: how to find moderation in fitness & wellness for more sustainability.
Behind the Scenes: A Q & A With Mike Meyers
I always find getting to the root of someone's 'why' is important, so I asked all the questions I could think of to learn more about Mike and his passion for training.
How did you become so passionate about health & wellness?
Growing up, I struggled with my weight. I was always known as the "fat" kid, and constantly made fun of. I knew that this was something I wanted to change. I've always been an active kid, and thought I would one day pursue physical therapy. As I learned the course of my bachelor's degree, exercise and operating at a healthy weight has both physical and health benefits. This instilled in me a passion for pursuing a healthy lifestyle.
What is most rewarding in being a personal trainer?
As a personal trainer, I've been able to watch my clients progress in a positive way, and towards a lifestyle they're proud of. There is nothing more rewarding than that. I often hear from others that they think physical activity/working out has to be torture. That they only step foot in a gym for the physical adaptations. The fact of the matter is that the changes people experience through working out, go far beyond that.
My clients experience new-found energy, increase confidence in themselves and are able to implement a healthy lifestyle for the future. Spotting these changes in a client is incredible. When you work so closely with someone, knowing what brought them in to train, and watching as they grow to accomplish their goals, is unbelievably rewarding.
Why did you decide to pursue a career with Fitness Formula Clubs?
I grew up in Niles, IL and remember passing by as the club was being built. After obtaining my personal training certification through W.I.T.S, an internship was offered to transition graduates into the personal training environment. FFC was one of the locations on the list and I knew right away I wanted to be there. I got in contact with Senior Director of Fitness Jon Baraglia, and he connected me to fitness director Sarah Ashenden. Once I toured the club and caught up with other personal trainers, I knew this was the place for me. I fit in here.
Two days into my internship I became a fitness specialist. This gave me the opportunity to absorb knowledge by having conversations with many FFC Park Ridge trainers. I worked hard, did my best to learn as much as I could, and in doing so I transitioned into full-time personal training a few months later. I couldn't be happier with my decision.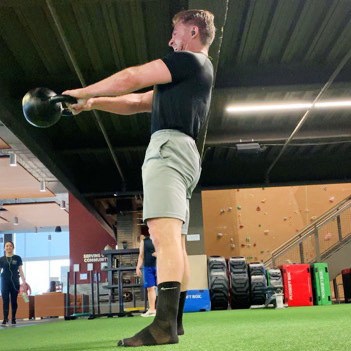 What are you currently in school for? Why?
I'm in school working toward obtaining my master's degree in healthcare administration. After graduating from the University of Missouri with my bachelors in health sciences and a minor in psychology, I was dead-set on physical therapy. I pursued that career path by working for an Athletico clinic. My goal was to gain experience, but after the second round of applications, and not being accepted, I knew I had to start looking elsewhere. I had a gut feeling and passion to remain in healthcare, but I wasn't sure what opportunities were available to me.
Interestingly enough (haha), I found healthcare administration with Governors State University, which is MHA-accredited. The only reason I'm with FFC is because I obtained my personal training certification through Governors State University. I took the opportunity, not knowing where it would lead. Everything happens for a reason. If you haven't realized it by now, life isn't a straight path. Not everything you plan is going to happen. If the plan I had set for myself a few years back panned out exactly how I thought, I wouldn't be here today, speaking with you. I wouldn't have made all these amazing connections with individuals at FFC. I've learned so much over a short time frame, and I'm very thankful for the opportunity that was presented to me.
What is your preferred way to train? For yourself and with clients?
I train my clients very similarly to how I train in my everyday routine. Before Fitness Formula Clubs, I was the classic HITT isolation guy who ran 6 miles (as fast as I could). I didn't allow myself to cross train or stretch, and instead I'd use isolation lifts after running. I don't suggest following my old ways. I looked good, but my body didn't feel good. At 22, I threw my back out. I knew my body craved something different, by starting at FFC, I was able to learn the importance (and the effectiveness) of functional training and waving heart rates.
Functional training is placing focus on mobility, stability, muscular strength, and finally explosion. It not only shows more effective results, but improves everyday functioning. Learning correct movement patterns, mobility needed for those patterns, stability to be in those patterns, and then the strength to move properly within the patterns, helps prevent injury, and increase the quality of life.
Related: FFC's functional performance offerings can help build mobility & important skills. Check out this post about how it works!
How do you build relationships with your clients?
Be a genuine individual. It goes along way. Many times, those coming into FFC for the first time are nervous, and insecure about what they know. By relating to them on a personal level, learning who they are, what they like, and what challenges they're experiencing is beneficial to the client-personal trainer relationship.
I explain to them that it's my job is to get them to their goals in the most productive and effective way. I find it helpful to explain my story as well, by sharing my view on training a client is often more receptive and willing to open up sooner. My client relationships are the foundation of each session. It's important to communicate, trust, and challenge each other.
Do you have a quote/mantra that inspires you?
"If you want change, you must create it."
"And I have no control over which yesterdays I keep and which ones get deleted. This disease will not be bargained with. I can't offer it the names of the US presidents in exchange for the names of my children. I can't give it the names of state capitals and keep the memories of my husband. …My yesterdays are disappearing, and my tomorrows are uncertain, so what do I live for? I live for each day. I live in the moment. Some tomorrow soon, I'll forget that I stood before you and gave this speech. But just because I'll forget it some tomorrow doesn't mean that I didn't live every second of it today. I will forget today, but that doesn't mean that today doesn't matter." ― Lisa Genova, Still Alice
Conclusion
If working with an FFC trainer, I suggest you do the same – ask the questions. Get to know who you're training with. Every trainer has their own story, just as you and I do.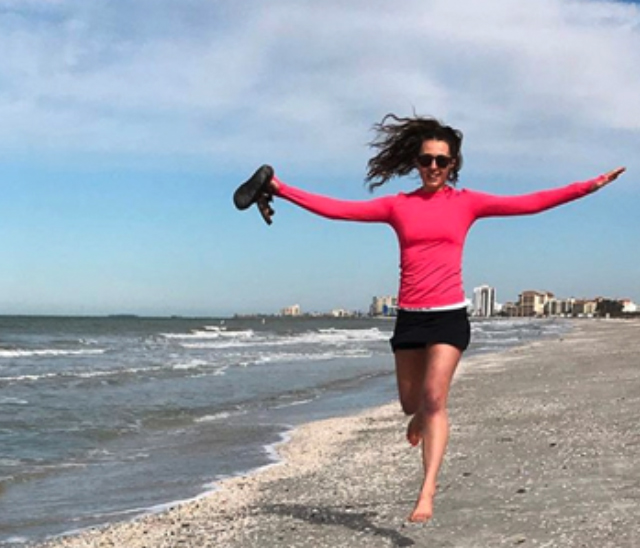 Post written by FFC Park Ridge Kids' Club Supervisor Carolyn Perry; photos provided by Carolyn Perry.
Follow along with Carolyn on her Instagram here!
---