I've been a member of FFC for almost 20 years. Living in the Lakeview neighborhood, I frequent the Boystown and East Lakeview locations at least 5-6 times per week, primarily in the morning. In the past few months, I've also started working out at least once a week at the West Loop location.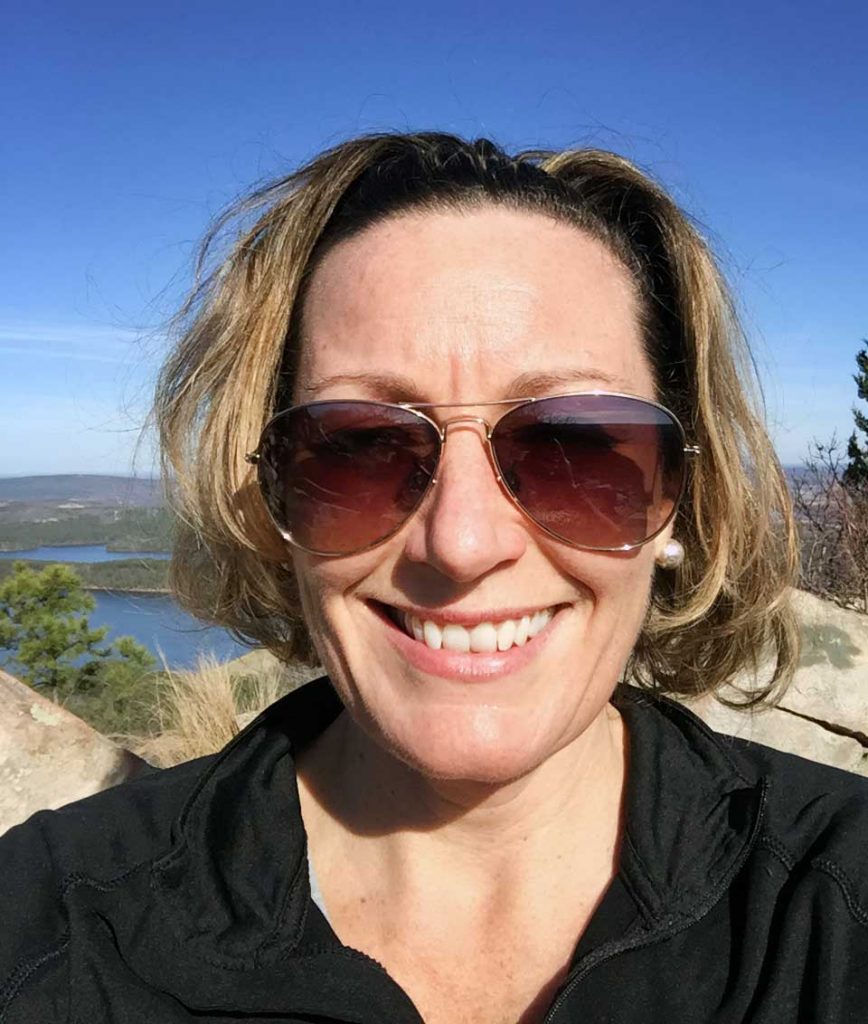 My experience with FFC over the years has been wonderful and it's enhanced my life and overall health in so many ways. The entire staff is excellent; not only are they professional, but the encouragement they offer is invaluable.
I'm a very active person, and love the "endorphin high" that you get from physical activity. Living in Chicago there is nothing like a run or bike ride along our lakefront. Over the years I've run 7 marathons, countless triathlons, as well as 10K, 8K and 5K races.
At FFC, I love a good spin class (music is key!) and the personal training is world class. My only downside is that I hate to run on the treadmill (but I'll do it!).
When the Rubber Hits the Road
I have a good routine going that keeps me fit and healthy. But sometimes we're all faced with difficult challenges.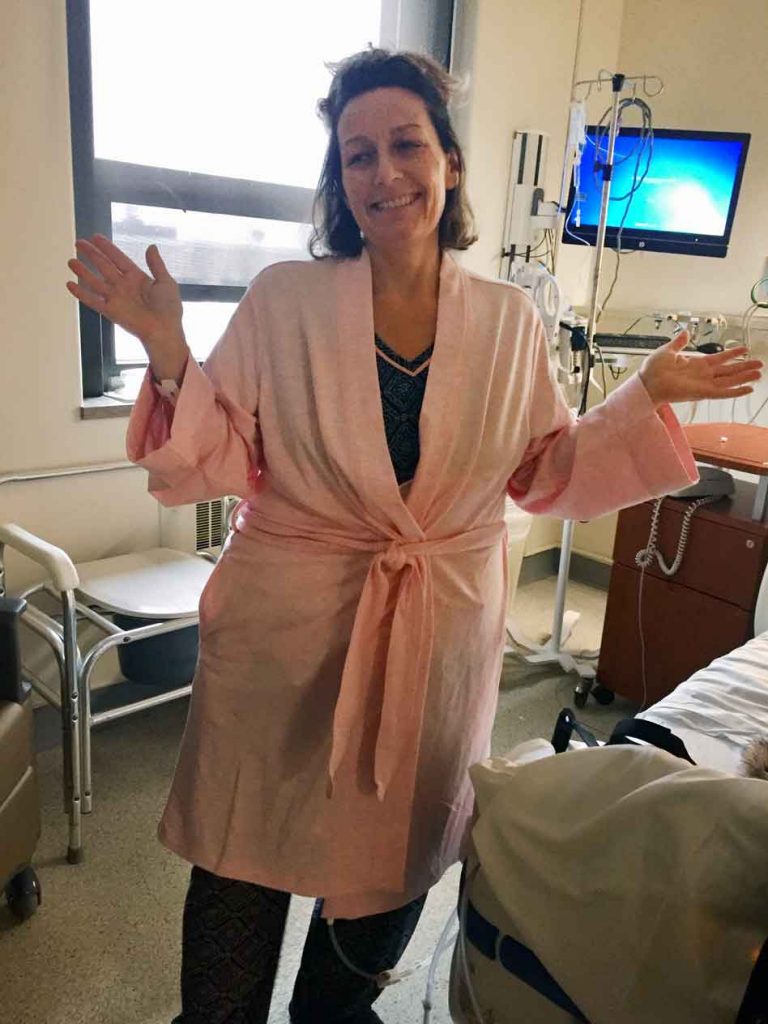 In January 2016, I had two large fibroids surgically removed and was out of commission for three weeks. This meant no working out and resting at home. Being an active woman, that was VERY hard. Nevertheless, during my recovery I was cleared to walk on the treadmill and not much else… but it kept me sane.
However, I never fully recovered. Two days after going back to work, I found myself back in the hospital and undergoing emergency surgery due to a severe bacterial infection. For a two-week period, I was in and out of the hospital.
Once released, I was connected to a wound-vac to heal the massive incision on my abdomen, and I had to administer antibiotics through an IV PICC line. For six weeks, I had a nurse come to my home and change my bandages and PICC line, and draw blood in order to monitor my infection.
Slowly But Surely
While I was recovering, a one-block walk became a walk around the corner… and then a walk to the lake and back. Once my doctor gave me permission, I was able to go back to the gym and attempt light workouts… and of course I did a little more than I was cleared to do! Getting back to where I was before my illness was very important to me and FFC played an enormous role with my goal.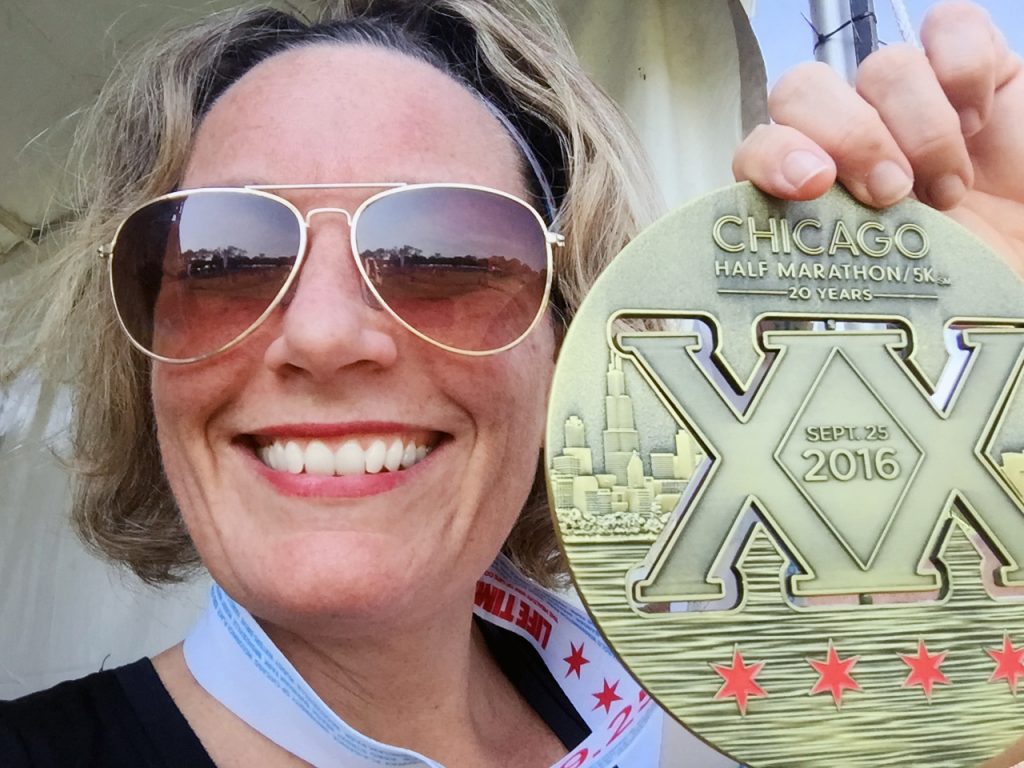 Once I returned to work, normalcy started to creep back in, Hallelujah! As I kept getting stronger, I decided I was really going to challenge myself… I signed up for a race. On Sunday, September 25, I completed the Chicago Half Marathon!
Related: how one FFC member overcame a devastating sports injury and refocused his energy into finding his life purpose, through FFC.
Soon after the race, I started training with trainer Beth Peterka – I've learned so much about the importance of resistance and weight training and aerobic/anerobic exercise. I'm also flipping tires, pushing weighted sleds, climbing the Jacobs Ladder, rowing, doing bench presses, lunges, planks, slamming ropes and much more. Even the treadmill has become fun.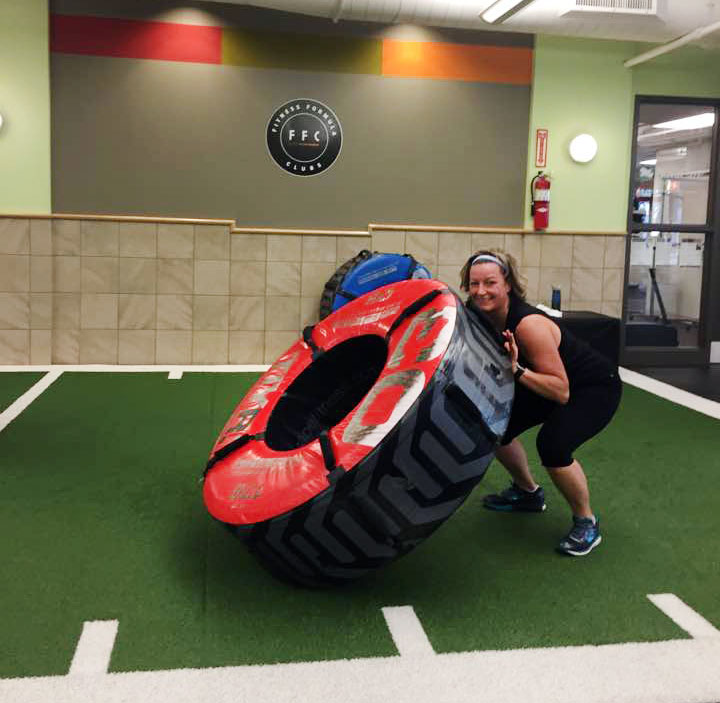 Beth also introduced me to a new obsession that has enhanced my workouts so much that I am stronger and in better shape than I have ever been: MYZONE. I've had more fun working out and logging as many MEPs as I can, that 'MEPing' has become part of my vocabulary!
Post written & photography provided by FFC member Mary May.